04/17/2020
C-stores adjust foodservice offerings during COVID-19 crisis
Convenience stores across Canada are scaling back foodservice operations during the COVID-19 crisis.

Self-serve food items are closed or modified under provincial health guidelines and mandated closure orders. For instance, roller grill and some frozen drink and ice cream options are on pause. Customers are being asked to prevent the spread of germs by using disposable beverage cups only for hot beverages.

In an effort to keep customers and staff safe, many c-stores are reducing the selection of ready-to-eat, grab-and-go items and in-house restaurant menus. Sites nationwide have shuttered eat-in areas.

Some operators are adapting by expanding delivery and curbside pick up options.



For instance, Leslieville Pumps, a convenience and gas bar in Toronto, is known for its poutine and barbecue. The operators are offering delivery through UberEats and phone-in curb-side pick-up right to customers' cars.

7-Eleven is also upping its delivery game through UberEats and Foodora. In addition to Slushees and oven-cooked pizza, customers can order staples like milk and bread and over-the-counter medicine to their door.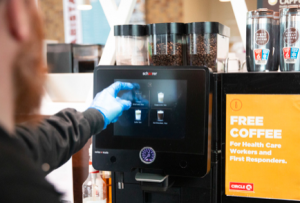 Circle K continues to make changes to its food and beverage sales. "In some provinces, guided by health official mandates to close buffet-style restaurants, we have stopped selling roller grill items," the company said in a statement. "We also have placed all fresh bakery items in individual paper bags. Regarding beverages, we have asked our customers to stop bringing in their reusable cups to our stores and instead to use disposable cups for dispensed beverages."