01/07/2020
Crevier Group's new wash site in Beloeil, Que. offers efficiency and quality
Not long after he was named VP of Crevier Group's fuel division in early 2018, Jean-Claude Clément was tasked with choosing a vehicle car wash system for the company's showcase service station off exit 112 on Highway 20 in Beloeil, Que., a 20-minute drive east of Montreal.

"To make such a decision you need to consider many things to make sure the system you choose is right for the business," says Clément. "You need to look at the area and market profile, the type of traffic and the location."

Crevier Group operates 220 service stations across Quebec and distributes petroleum products, notably Chevron, in seven Canadian provinces.



In the end, Clément opted for a touchless LaserWash 360 Plus from PDQ for the company's new Beloeil site, a system he became familiar with during the 22 years he spent building and running Pétro-T's network of 150 service stations across Quebec. 

"I'd bought several earlier generations of that model and they always worked well," recalls Clément, who left Pétro-T in 2015."It's a reliable car wash that we thought offered the right mix of efficiency and quality for the Beloeil site."  

Impressive development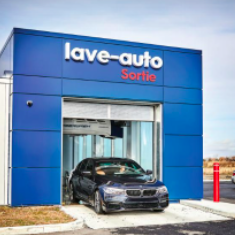 In operation since July 2019, the new car wash and four-island gas bar are part of an ambitious plan by local promoters to develop the entire 1-million-sq.-ft. site into a multi-functional commercial, entertainment and residential oasis within commuting distance of downtown Montreal.

 

Dubbed the Faubourg du Richelieu, the $125-million project by Groupe Lobato involves the construction by 2021 of commercial and office space, a 100-room hotel and convention centre, a water park, a sports facility (including an indoor soccer field), residential condos and the project's pièce de résistance—a marina on the historic Richelieu River. Deals have also been inked with Tim Hortons and A&W. To date, only the Crevier service station, a 99-slip marina and several condos are built on the land, which is still mostly greenfield.

However, work is to begin soon on 400 parking spaces conveniently located adjacent to the wash site. The spots are expected to be in heavy demand starting in January 2021 when Montreal's Louis-Hippolyte Lafontaine Bridge-Tunnel, which runs over and beneath the St. Lawrence River in the city's east end, will close for repairs for one year.  

 "Commuter traffic on Highway 20 will be backed-up right to our door," says Clément.  "I'm sure many people will decide to simply park their cars here and take the bus. Having 400 cars here every day will be good for our gas and wash business."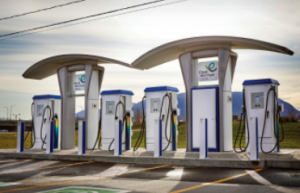 The Crevier service station is one of four that the company operates within a few kilometres of one another on both sides of the river. Of those sites, the Beloeil location is the only one with a convenience store and a universal fast charge superstation for electric vehicles (EV). 

The fast charging station is one of 10 that Crevier operates at service centres across Quebec in conjunction with Electric Circuit, Canada's first public charging network for electric vehicles, which offers 240-volt and 400-volt charging stations in the parking lots of partners in Quebec and Eastern Ontario. Crevier's Beloeil station is the first with rapid charge facilities, which recharge most cars to 80% in only 20 minutes.

 "EV is getting big in Quebec," says Clement. "That's why we are working to install them at every station in our network whenever we renovate or build new."

Site meshes with business plan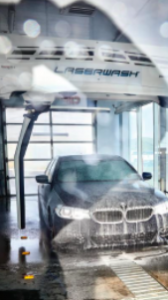 Clement says that Crevier was "in no rush" to build a car wash in the first phase of the Beloeil site—plans originally included the gas pumps and EV charging station, plus a well-stocked convenience store.

But, his hiring and being tasked with finding the right car wash system for the site dovetailed with Crevier's increasing interest in the retail side of its service station network. "We used to be more focused on the sale of petroleum products," says Clément.  "But our model has changed over the past four or five years."

With the addition of the Beloeil car wash, Crevier now operates five automatic washes, including four in Quebec and one in the Eastern Ontario border town of Hawkesbury.  

They are all different makes and models and include both touch and touchless equipment. "We've got a bit of everything," says Clément.

"We went for simplicity, we didn't add any extra features or gadgets like Lava Baths or Armor All," he says of installing the LaserWash 360 Plus at Beloeil.  "We went for a standard format where people can choose between three kinds of wash—regular wash, wash with wax and super wash, where we put three-colour foam on vehicles, which puts on a nice show."

 In the spirit of keeping it simple, there are no apps; instead customers can pay at the pump or inside. 

 Clément suggests it is too early to know if Quebec's famously cold and snowy winters—coupled with the notoriously strong winds that whip across Beloeil and its low-lying, farm-rich St. Lawrence Plain region—will be a problem for the new wash.

"Bad weather shouldn't be a challenge," says Clément. "Car washes are built for winters. The entrances and exits are heated, as are the cement pads, which are heated when electronic sensors detect a risk of freezing. Those heat-active systems should help to avoid any ice buildup."

He expects the same solid performance from the new wash in Beloeil as the earlier generation models he installed years ago for Petro-T.  

"These are solidly constructed systems that respond to our needs, which are providing an acceptable wash at the best price/quality ratio for both purchase and operation," says Clément.  "I'd make the same choice again today."
Originally published in the November/December issue of Octane.