02/03/2020
Innovation at the pumps
Manufacturers up the ante with new tech
Fuel dispensers and related equipment have come a long way since 1907 when Canada's first retail gas site opened to the public in Vancouver at Cambie and Smyth. Back then it was considered a win just getting fuel safely from the storage tanks to the car. Today, dispensers are still an interface between customers and the retailer but they also perform a range of new tasks and have capabilities designed to enhance the forecourt experience.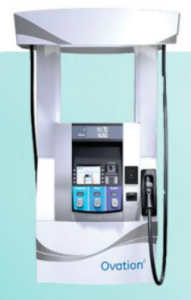 A good case in point of leading-edge dispenser technology is Wayne Fueling Systems' Ovation 2 series. Usinga large dispenser mounted video screen with customer interface, Ovation 2 drives targeted product messaging with dedicated media that translates into c-store sales. Wayne reports that an enhanced media-at-pump experience creates a 16% lift in traffic from the forecourt to c-store and a 3% to 5% hike in sales. Devices are flexible in capability with media messaging changing through the day-parts. This means morning customers are offered coffee and breakfast sandwiches while afternoon customers might like the two-for-one energy drink promo. Specials for car wash, wiper blades and wiper fluid are constant through the day.Ovation2 also has 25% more space for branding and other messages dedicated to driving secondary sales.

Media dispensers are a proven tool that increases c-store sales. For example, Nielsen-Lieberman Research found Pepsi sales increased 20% and candy purchases were up by 69% following the installation of dispenser media displays.

Wayne is a division of Dover Fueling Solutions, a company with a range of brands that offer unique and innovative products for the forecourt. For example, its Tokheim division offers its T-Media dispenser, a product popular in EU countries. T-Media features a 17-inch display monitor, the largest that we have seen. Like Ovation 2, media is targeted to the motorist and offers day-part messaging as well as lots of interactivity and ease of programming.

Not to be outdone, Gilbarco Veeder Root has brought Encore Experience to the market in the US. This system offers a cloud-based open applications platform that enables retailers to customize on-screen experiences. This creates excitement at the forecourt and drives customers to convenience store purchases. Retailers can create unique apps, use Gilbarco-built platforms or go with a third-party-developed app to deploy content and functionality to Encore dispensers' 10.4-inch display screens. 

Like other media dispenser systems, Encore drives loyalty, creates repeat business and adds to in-store sales. Simply, motorists are captive for the few minutes they fill their tanks. The dispenser creates engagement that shows off content and products. Here, retailers can customize existing digital apps with graphics such as backgrounds, icons and logos. On board are existing applications that allow for games, ticker information, survey and coupons. Customers can even order c-store items at the dispenser and pay at the same time they purchase gas.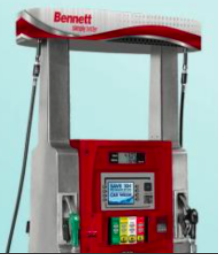 Bennett Pump has been making fuelling devices for more than a century and many Canadian operations utilize the company's new NV line of dispensers. These products offer an enhanced operating economy with the company suggesting energy costs are 60% lower than other dispensers. It also offers one of the best fuel meters in the business, something operators like because accuracy puts money in their pockets. The systems also come with a range of media displays that range from 7-inches to 10.5-inches.

Robotic fuelling making gains

Business researchers MarketsandMarkets project the robotic refuelling system market is expected to grow from (US)$25 million in 2019 to (US)$2.2 billion by 2030. Driving this growth is the lowering cost of robotics at the forecourt as well as enhanced safety and security at the site. Challenges include the replacement of manual gas caps with automated fuel caps. Already some car manufacturers, such as Ford and Chrysler have gone this route.

Stockholm-based Fuelmatics is an industry leader in robotic fuelling. Since their market introduction about 10 years ago the company has seen gains in use from sectors such as mining, long haul trucking, urban transport and other large-scale fuel users. Last year they inked their first US deal for the Fuelmatics 5000 with Airport Plazas, a multi-service retailer that offers gas, diesel, CNGand E85at nine airports in the US such as JFK, La Guardia and Newark airports.

The Fuelmatics 5000 has smartphone payment capability, compact design, and an operating speed that can fill tanks in about three minutes. The system can handle all liquid and gas fuels, so it is ready for hydrogen stations as they are built.

Fuelmatics' device works by establishing a sealed connection with the car before it opens any flow valves. Vehicles approach the unit, drivers activate it with their mobile device where their credit card info is stored. A robotic arm opens the gas hatch on the car and makes a seal with the nozzle. As an added blessing the system recovers 100% of the vapour and condenses it back to fuel.

Nozzle technology keeps pace with trends

The nozzle is the direct interface with the customer. If nozzles spray fuel, leak or have an unwieldy handle grip, operators can run into unhappy customers. Manufacturers have been hard at work to make the nozzles and handles both ergonomic and efficient. One instance of this innovation comes from Husky a 70-year old company that has recently introduced the EZ Lever nozzle.

Husky is represented in Canada by Red Leonard and Associates. Here, sales manager Jim Rodd tells OCTANE that the EZ Lever is attractive to people with disabilities such as arthritis. "The nozzle operates more smoothly and customers have more control over how much fuel they dispense,"he says noting that the EZ Lever is a two-piece design that allows the poppet to open with just five pounds of force. Most nozzles on the market ask customers to use 10 pounds of force or more to get dispensers moving gas to vehicles.
Husky has also introduced the XS nozzle. Rodd reports this device has shut-off features to enhance safety. For example, the nozzle will not activate if the pump is not on or the car's gas tank is full or the leak detector has not fully cycled. The nozzle also sports a stainless steel spout bushing that prevents sensor tip damage. If the nozzle is dropped or is raised above horizontal Husky's Flo-Stop device shuts the nozzle down. An important introduction here is StreamShaper, a technology that works to reduce turbulence in fuel flow that results in less splashback. Pants and dress shoes have never been happier.                     
Gilbarco Veeder Root is another prominent manufacturer that is making it less difficult to fuel vehicles. This company has come forward with Ergo, a dispenser nozzle that is designed for easier one-handed operation. The company reports that Ergo offers a lever that is 66% easier to pull than their previous model. The nozzle is also 12% lighter and uses heat-treated roller pins at the drive shaft assembly to better resist the elements and hold up to heavy use. The Ergo also handles the action in extreme environments with performance rated for temperatures from minus 40ºC to 51.6ºC.
Storage tank improvements
OPW is a major name in fuel storage and they have been staying up-front thanks to regular developments. For example, they recently released the High-Flow Loop System. This equipment is an extension of OPW's FlexWorks Loop System. The company suggests the new systems are ideal for truck stops where there can be multiple lanes for transports and blended service for passenger cars and light trucks. "High-volume sites were a challenge with the offset product inlet configurations on high-speed dispensers as well as a way to incorporate our larger diameter 3-inch flex pipe," says Ed Kammerer, director of marketing and global product strategy for OPW Retail Fueling. "Essentially, the High-Flow Loop System takes the components of the original and 'supersizes' them so they can deliver higher flow rates – all while maintaining the original system's streamlined installation, operation, monitoring, maintenance, repair and replacement capabilities," he says.
For fuel providers with compromised single wall storage tanks, ZCL has a solution. Their Phoenix System now offers a less expensive way to deliver containment when single wall units fail or site challenges make removal of existing tanks a challenge. The upgrade system consists of two corrosion-resistant laminates with a proprietary glass fabric between the laminates to create an interstitial space. The interstice can be either dry or hydrostatically monitored. The Phoenix System, when applied onsite by trained installers, is compatible with biofuels, including ethanol-blended fuels and bio-diesels.
Originally published in the January/February issue of Octane.