07/03/2019
Labrador c-store offers the unusual: Confectionery, cheesecake...cannabis
 



Brenda and Trevor Tobin prefers the path less travelled. While the two stores she co-owns in Labrador City are well stocked with products customers expect – beer, cigarettes and lottery tickets – they also offer up extras that get customers talking and keep them coming back – everything from classic confectionary to cheesecake to cannabis.

"We like to carry products you can't get anywhere else in town, and we go above and beyond to get them," says Brenda Tobin, who co-owns Tobin's Convenience and Tobin's Mini Mart with her son Trevor and their respective spouses Ed and Krissy.

"We're very busy,"she adds, "because we carry everything from a toothpick to a condom."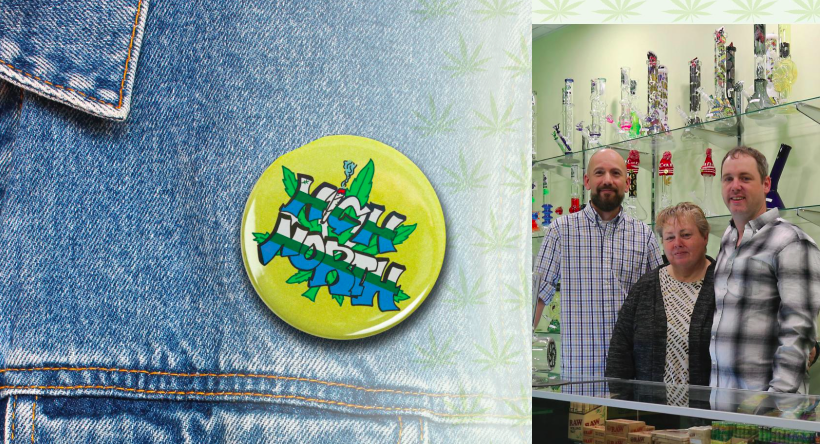 The pace is likely to become even more hectic as the c-store owners move full throttle into selling cannabis. Tobin's is the only location in Labrador where pot can be legally purchased at the moment with the possibility of another location coming late 2018 in Goose Bay – and the only store in Labrador West to be granted a licence.

The opportunity to be among the first retailers to sell cannabis was too good to pass up, says Tobin, but getting the government's seal of approval involved a lot of hard work and long hours. "We sat down night after night after night to prepare the proposal."

The new cannabis outlet is attached to, but physically separate from Tobin's Mini Mart, with its own entrance, as required until the provincial licensing regulations, says Tobin. The c-store operators have received four days of training and instruction from Cannabis Newfoundland and Labrador that covered everything from lighting and security to sales.

Profit for the marijuana products is limited by the government to an eight per cent markup. "You have to sell $250,000 to make $20,000. There's not big money in it," notes Tobin. They are hoping, however, there will be larger margins in sales of cannabis-related merchandise such as bongs and pipes.

Meeting customers' needs requires anticipating those needs. Tobin's, for example, is the only location in Labrador with a Bitcoin machine. At present, customers can buy the cryptocurrency at the store. "Eventually, we hope to have a machine where you can sell Bitcoin or buy a product with the currency," says Tobin.

Going the extra mile for customers

Tobin's has a history of providing the unusual when customers request it.

Brenda points to the store's selection of retro candy, a customer favourite. For those with a heartier appetite, Tobin's has a kitchen onsite that dishes up homemade pizza and submarine sandwiches. They even deliver. A baker prepares cheesecakes, fish cakes, cookies, and mouth-watering pies. For Thanksgiving 2017 alone, 51 homemade pies were whisked off the shelf.

If customers have a special item they'd like to see in the store, every effort is made to acquire it. Recently, for instance, a customer requested Blue Raspberry Crush. Now the c-store owners have 24 cases on hand.

While the product lines may change, one thing at both Tobin's c-stores remains constant: fast, friendly customer service. Respecting and relating to customers is a staff requirement, says Tobin. "We greet people as soon as they come in the door."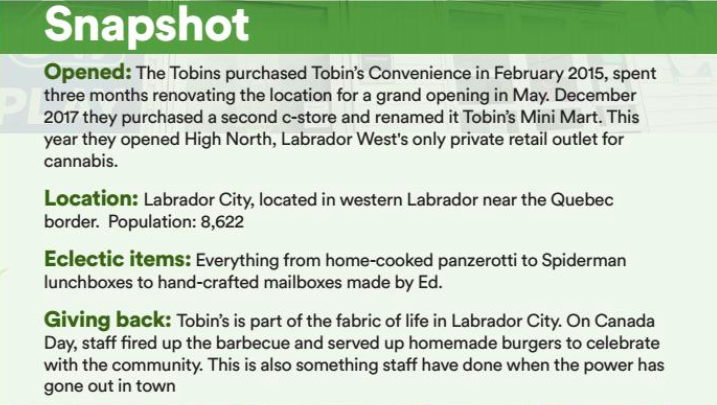 Tobin's Convenience's tips for a successful store:

Treat customers like family. Making customers feel welcome and valued is not just a nice thing to do, when it's genuine, it's smart business. If a customer needs tea bags, for example, and Tobin's is waiting for its next shipment, Brenda Tobin will walk back to the store kitchen, grab a few, put them in a baggie and hand them to the customer. No charge.

Respect your staff. Employees are the backbone and the face of a store. Treat them well, says Tobin. Their c-stores, for example, offer staff the option of full benefits including life and health insurance.