06/07/2019
McCowan: Gas convenience is our business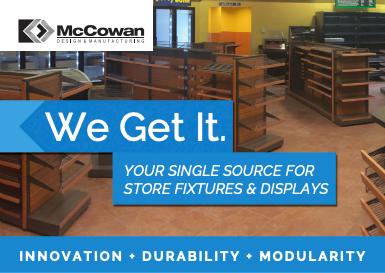 Unlike other store fixture suppliers, McCowan is focused on serving Gas Bar and Convenience store operators. McCowan's products and services geared specifically to the needs of our market.



Durability.

All McCowan products are made from high quality metal and are powder coated to reflect your brand. Our product holds up in extremely high use, high traffic environments and withstands water/moisture and winter conditions. Our products keep your stores

looking better for longer!




Consistency.

When deployed across a vast network of stores McCowan product will be 100% consistent store-to-store and year-to-year. This makes for easier brand management and easy upgrades in the future.





Modularity.

Our products are modular and can be customized to fit any space using our library of standard parts. Products can be easily reconfigured should the stores needs change.





Merchandisable.

Integrated merchandising solution – all standard McCowan shelves will fit into the front of the cash desk and gondolas. Large library of standard components that are available to customers at all times.





Expandable.

Cabinets can be easily reconfigured. System of interchangeable components and accessories can be ordered as operational needs change. Changes to doors and counter tops can be made easily should your look change in the future.





Industry Expertise.

McCowan offers a vast knowledge base of the Gas Convenience industry having 25+ years of experience serving the market.





Industry Leading Turnaround Times.

McCowan

has a long history of consistently delivering to stores in unparalleled lead times.




Integrated Domestic Manufacturing.

Access to over 200,000 square feet of manufacturing capability. Products are produced in house; there are never interruptions due to importing.





Easy Assembly.

Our product assemble with minimal tools and do not require carpentry to take place on site. This saves time and cost. All units include standard grommet holes and  plumbing/electrical access points.





Reduced Shipping Cost.

Our product ship knocked down, reducing the space required on for shipping on trucks. No Shipping air.



For more information, visit our website.