10/10/2018
Millennials and breakfast
Find out how Millennials feel about breakfast and the opportunities that exist for the c-store category with the Millennial Generation.
By David Coletto, CEO Abacus Data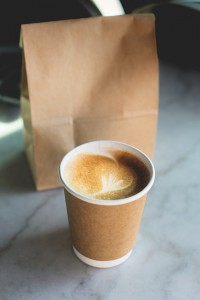 It's the most important meal of the day and for many c-store owners who are feeling the impact of changing consumer preferences and technological changes on the business, breakfast represents a huge opportunity to grow revenue and build a relationship with Canada's largest consumer market – the Millennials.

In partnership with EnsembleIQ, publisher of Convenience Store News Canada, my market research firm Abacus Data conducted a national survey in the summer of 2018 to explore how Millennials feel about breakfast and the opportunities that exist for the c-store category with the Millennial Generation.

Millennials are consumers born between 1980 and 2000. With a population of about 9.5 million across Canada, there are more Millennials in Canada than any other generation. Over 1.25 million of them will form their own households in the next five years. As consumers, they seek convenience, high-quality, and increasingly healthy options in the food they eat. They are the most sought-after market for retailers and food service operators alike and their preferences will shape the market for years to come.

Here's what our national survey found:



      At this stage in their life, Millennials are less likely to eat breakfast than older generations but when they eat breakfast, they are more likely to do so outside their home. In a typical week, the average millennial will eat breakfast 4.7 days a week compared with 5.3 days for

older Canadians.


      In fact, only 42% of Millennials say they always make time to eat breakfast, 18 points less likely than older generations. But it's not because they don't want to eat breakfast, it's just they feel a time crunch and sometimes skip the meal if finding breakfast isn't easy or convenient.


When they do eat breakfast, 76% of meals are made at home, 15% of breakfast meals involve eating something that is pre-made or packaged while 9% of meals are consumed at a restaurant or from a retailer.


More millennial breakfasts are eaten outside the home than those consumed by older generations (24% vs. 15%).


Given this, it's not surprising that they are more likely to visit retailers or restaurants for those out of home breakfasts with grocery stores, quick service restaurants, c-stores, and sit-down restaurants being the most popular stops. Most importantly, Millennials are five times as likely to get breakfast at a convenience store at least once per week than older generations (15% vs. 3%). That's about 1.4 million Millennials visiting a c-store for breakfast at least once a week – and many visit more than once per week.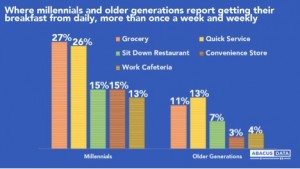 Slightly more than a quarter (27%) of Millennials are open to eating breakfast at a c-store but only do so once a month or less. That is approximately 2.5 million more Millennials open to getting their breakfast at c-store but have not found a reason to go more regularly. C-stores are tied for third on Millennials' menu of breakfast establishments, after grocery stores, quick serve restaurants like McDonald's, Tim Hortons or Starbucks, and tied with sit-down restaurants. Compared to grocery stores and sit-down restaurants, c-stores offer greater convenience and can often compete with quick serve restaurants with convenience and price and could represent an equal alternative. C-stores offer a lot to millennial consumers and can leverage those positive qualities to capture a wider share of the millennial breakfast market.



But beyond the current and immediate potential markets, c-stores need to understand what Millennials are looking for in their breakfast. Here's what our survey found out:



      Like all consumers, taste is a key factor for most Millennials. 75% say how the meal tastes is one of the most important or a very important factor in their decision to what they eat for breakfast.


      But beyond tastes, most Millennials are also looking for convenience, 64% say it's very important compared with 47% of older generations.


      They are also looking for a cheaper meal option. 61% say cost is a very important factor, 13 points higher than older Canadians.


 Beyond convenience and price, there are few differences between Millennials and older consumers in what drives their decisions. About half are looking for meals with protein and some fruit or vegetables. Four in 10 care about the amount of fibre in their food and only 31% are calorie conscious, saying that eating as few calories as possible is one of the most important or a very important factor in their decision-making.



In summary there is a path to increase the number of millennial breakfasters who choose c-stores to provide them with their morning meal. With the natural c-store edge of convenience and competitive prices, c-stores are already enticing many Millennials to occasionally purchase breakfast at their local c-store. Where c-stores can start winning more of the millennial breakfast market is by providing healthy breakfast foods more conveniently, and more inexpensively than grocery stores, sit down restaurants or even quick service restaurants.

The three most important traits Millennials take into consideration when choosing a breakfast food to buy are 1) taste, 2) convenience, and 3) price. Convenience stores are known to offer the last two of those three traits and n
ow need to convince Millennials that the food found in c-stores tastes great. Emphasizing the health elements of these foods — particularly fibre, protein, caloric content, and the use of fresh ingredients — will be key to competing with grocery stores and sit-down restaurants and converting the 2.5 million Millennials who are open to eating at c-stores to actually doing so. Partnering with local chefs or entrepreneurs using local ingredients or novelties would all act as "pulls" for Millennials who perceive these things as adding confidence and quality to their food.

Many Millennials are commuters and feel crunched for time. C-stores often have premium locations — gas stations, neighbourhood corners, etc. — that can capitalize on transient Millennials and can bring in these traditional breakfast skippers with the promise of quick food that is healthy and can prepare them for the day ahead. In most cases c-stores can do this faster than most quick service restaurants, which would add an additional destination to a millennial's commute, so c-stores should be the one-stop-shop.