02/09/2021
Picture perfect: At Green Lake Station, nestled among the mountains in Whistler, B.C., even the bathrooms are beautiful
It's been a whirlwind four years for Adam Naundorf and his parents, Anna and Gregory. In 2016, they opened Green Lake Station Café and Fuel in Whistler, B.C. First though, they had to design and oversee the building of the 2,400-sq.-ft. store. 



"We tried to make it as nice as possible for customers," says Naundorf [Adam]. "People do a double take when they walk in."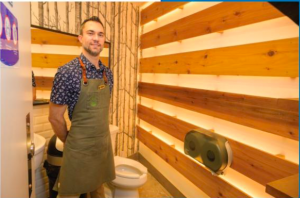 Custom wood shelving, warm white light, and cedar and tile backsplashes are cornerstones of the store's contemporary design. Even the bathrooms are noteworthy. They have a clean, modern look. The space is backlit, and the use of cedar makes the facility seem relaxed and cozy. "It feels like you're in a spa," says Naundorf. 

Attaining that feel inside and outside the bathrooms comes at an additional cost, he notes. "But it is paying off. People remember us because we have a clean store, a great gift selection and wonderful washrooms. They tell their friends."

The gifts the store sells include everything from mugs to espresso cups, toys and stuffed animals. A theme that runs throughout many of the items: a West Coast vibe. Among the standouts are items featuring Indigenous art. "We try to go as local as possible," says Naundorf. 

Standing out is both a business approach and a geographical necessity, Naundorf adds. 

"Whistler is a massive ski resort destination, but we are on the northern side of the village. People have to want to come to us."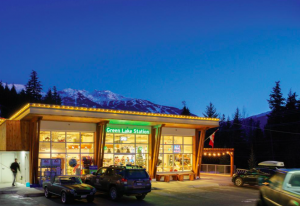 In addition to décor drawing customers in, there are the meals made on premise. One hot seller is the store's breakfast sandwich—bacon, turkey or veggies on a toasted pretzel bun with cheese and savoury sauce. Freshness is key, says Naundorf. "The egg gets cracked in front of you."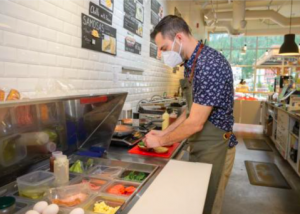 Other standouts on the menu include, a pear and blue cheese pizza, brie and fig panini, smashed avocado toast and a vegan burger.  For customers looking to sip rather than dig in, there is a large coffee selection featuring lattes, macchiatos and cappuccinos. "If you can find the type of food people like and find your niche, it differentiates you," says Naundorf.

In the wake of COVID-19, that differentiation is helping the store do a brisk business. Before the pandemic initially locked down much of British Columbia, 50% of Green Lake Station's business was tourists, with locals and work crews making up the rest. 



Over the summer, visitors from Vancouver kept the store busy, says Naundorf. Stil, with restrictions, seating inside the café dropped to four from 16, while space on the popular outdoor patio was cut in half to 10. As winter settles in, more local residents and work crews are coming for a hot drink and a fresh breakfast sandwich. (In late 2020, they were also doing some holiday shopping.)

What hasn't changed in the wake of COVID-19, is a commitment to outstanding customer service. "We want [customers] to feel they are walking into a warm, welcoming place," says Naundorf.

Green Lake Station's dedicated staff play a key role in creating that comfortable atmosphere: "People stick around. We make [employees] feel appreciated. In turn, they appreciate the customer." 

This article originally appeared in the January/February issue of Convenience Store News Canada.