09/17/2019
Plant-based proteins prevail at CHFA East
From dairy-free butters and vegan chocolate bars to plant-based burgers and crunchy vegan snacks, everywhere you looked at the Canadian Health Food Association's annual trade show in Toronto, CHFA East, there were clear signs that the plant-based trend is only continuing to grow.

Taking place at the Metro Toronto Convention Centre on Sept. 14 and 15, there were more than 1,100 booths at this year's well-attended, lively show—many of which were displaying products that contained no animal-based ingredients. Editors from CSNC's sister publication, Canadian Grocer, strolled this year's show floor in Toronto to spot the latest trends in health-related food and beverages

"It's no longer just for vegans; many of the people trying to eat more plant-based foods are also now doing it [out of concern for] the environment," says Richa Gupta, president of Toronto-based sauce company Good Food for Good, exhibiting at the show. "They want to make a difference, and if eating a more plant-based diet can help save the planet, then why not? So what entrepreneurs are trying to do is come up with options that make that easier for consumers."

A significant number of dairy-free cheeses and butters were on display throughout the show floor,  with many established vegan cheese companies introducing new flavours or product lines (London, Ont.'s Nuts for Cheese displayed its newest Black Garlic flavoured cashew spread, for instance).

New dairy-free introductions to the Canadian marketplace included Chicago-based Medlee Foods' plant-based vegan flavoured butter alternatives (ideal for use as "saute starters" during cooking or "finishing flavours" after cooking, according to the company), in flavours such as Lemon Chive, Pesto, Roasted Garlic and Sun-dried Tomato.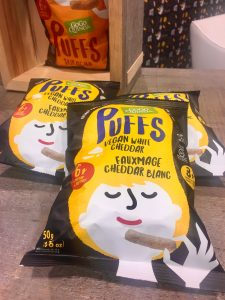 New vegan crunchy snacks were everywhere as well, including Quebec-based GoGo Quinoa's Vegan White Cheddar Puffs; while plant-based premium frozen dinners also made an appearance, including those from new Toronto-based startup Tiamo Foods, which displayed its plant-based frozen entree line in varieties such as Golden Curry, Thai Medley and Harvest Stew. Tiamo was part of a new section at CHFA East this year called Incubator Alley, which shone the spotlight on some smaller, newer, up-and-coming startups.

Better-for-you jerky 

Not everything at the show was plant-based, however, with high-protein, premium jerkies being a notable meat-based presence. Toronto-based Dick Duff's Organic Jerky boasted "more protein, less sugar" with its premium-flavoured jerkies (Dijon Mustard, Red Wine & Rosemary and Sweet Chipotle); while California-based Country Archer Jerky Co. touted that its jerky was made from 100% grass-fed beef.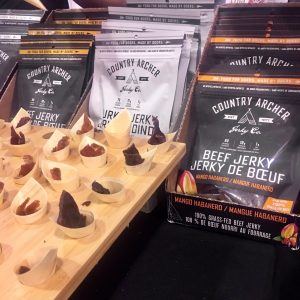 Country Archer's founder Eugene Kang said while the jerky and meat snacks category has been around a long time, "it's trending now because we are using better-for-you ingredients in a modern world. Protein and snacking are trending, and on top of that … grass-fed beef is is just much better for you in terms of nutrition and sustainability; so the stars have all just kind of aligned for us and this category."

Keto and paleo friendly

Also notable at this year's show was the number of products touting they were ideal for specialty diets such as keto or paleo. Toronto-based Nud Snacks was displaying several new products ideal for keto and/or paleo diets, including two new keto-friendly Organic Paleo Vegan Crackers—'Everything' crackers and Simple Seed Crackers—as well as Vegan Paleo Organic Chocolate Covered Chew Bananas (in two varieties: plain and with added protein).

Gut health


Gut health was once again a focus of a number of products at the show from prebiotic sodas to kombuchas, kefirs and kimchis. Toronto-based Crazy D's Prebiotic Sodas was sampling its beverage line—which went from distribution in mainly niche health food stores to several large mainstream chains just this year—while California-based Wildbrine was debuting a couple of brand new sauerkraut flavours: Carraway Apple Organic Kraut and Jalapeno Lime Organic Kraut.

Originally published at Canadian Grocer.