07/06/2020
Stepping-up for safety
Wash and fuel sectors look outside the box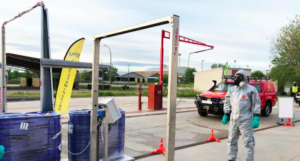 COVID-19 has created trying times. Both wash operators and manufacturers have pivoted to create service and product innovation amid these challenges.
A good example is ISTOBAL, a leading manufacturer of car wash equipment with a presence in 78 countries. This company has reinvented uses for its automatic wash arches that are now being used to disinfect the personal protective equipment (PPE) and vehicles of health, security and emergency personnel combatting coronavirus/COVID-19.
The company reports that over two weeks it adapted its chemical application technology that has been in use in car washes around the world. This arch adaptation, first in use in Spain's battle with COVID-19, now disinfect personnel, vehicles and gear in just 15 seconds.
The company's equipment can be installed near main accesses, quarantine areas, operating rooms, ICUs and other points. With a capacity to disinfect more than 4,000 people with PPE a day, these arches measure two meters in height and are made up of eight sprinklers that spray a disinfectant product on the PPE of health and safety and emergency forces and are automatically activated in its path thanks to a photocell detection system that activates the sprinklers.
ISTOBAL is also producing arches for the external disinfection of medical vehicles such as ambulances and fleets of the security forces with an average disinfection capacity of about 1,000 vehicles per day. This system is designed to spray vehicles with a biocide.
In the face of some operators turning away truckers and others during this public health emergency, Shell has stepped up to show its support of drivers and frontline workers. In more than 15,000 participating retail sites across 30 countries, Shell will be providing free food and warm beverages to healthcare professionals, such as EMTs, nurses and doctors. "As a small thank you for all you are doing for our communities, we invite Canadian healthcare professionals to stop into any participating Shell gas station. All you need to bring is your medical ID and we will provide a free sandwich and warm beverage to keep you fuelled throughout your day," says Andrea Brecka, general manager Retail, Shell Canada.
The petroleum company also announced that not only will its sites offer free sandwiches and beverages to medical crews as well as commercial drivers such as couriers, long haul and grocery and fuel delivery drivers as well as others. Drivers only need to be uniformed with a company truck.
At Petro-Canada's 1,500 + sites operations offer plexiglass shields at cash, social distancing prompts and stations are disinfecting all internal surfaces, such as the pay-point, door handles and washrooms every two hours or more. Surfaces outside, such as pumps squeegees, vacuums and air pumps are cleaned multiple times a day.
Suncor spokesperson Nicole Fisher tells OCTANE that Petro-Canada sites are being made as clean and safe as possible. She reports stations are:


placing indicators on store floors to ensure people remain at a safe distance from one another


installing plexiglass shields at the main pay counters


limiting the number of customers in each of our larger stores


increasing cleaning and sanitizing procedures


reducing contact points, including closing all fountain pop and slush machines



The Chamois Car Wash and Detail Centre, a three-site business located in Winnipeg is offering a full interior sanitizing service. The wash group offers both automated tunnels and full detailing packages in its normal menu. Following the outbreak of the coronavirus, Chamois closed its standard interior service and runs only its automated lines where customers must remain in their cars. Groups such as taxi operators and first responders and others told them people were looking for safer virus-free vehicle interiors.

Chamois turned to their expertise to create a service that had to be safe for employees. At their wash sites, they bath the interior with a liquid germicide that is allowed to sit for a full 10 minutes. Then a single staffer can enter safely to wipe off the residue and perform a deep clean on the interior. The service takes about 45 minutes and costs customers $49 for cars and $59 for vans. The service includes their best-selling Gold wash package.