11/07/2019
Suncor Energy announces Lorraine Mitchelmore to join board of directors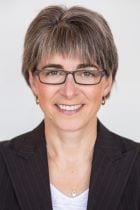 Lorraine Mitchelmore is the newest members of Suncor's board of directors. She stepped into the role Nov. 6,

"I'm delighted that Lorraine is joining Suncor's board of directors," Suncor board chair Michael Wilson said in a statement.  "Lorraine brings over 30 years of international oil and gas industry experience. She has deep expertise in risk management, business strategy, operations and employee health and safety. On behalf of the board, we look forward to working with her."

Mitchelmore most recently served as the president and CEO for Field Upgrading, a private equity backed fuel upgrading technology company located in Calgary. Prior to Field Upgrading, she was the president and country chair of Shell Canada Ltd., as well as executive vice-president, Heavy Oil for Shell Americas.  Prior to joining Shell, she worked with Petro-Canada, Chevron and BHP Petroleum in the upstream business units in a combination of technical, exploration & development, and commercial roles.

She has been a director of the Bank of Montreal since 2015 and has served on the boards of Shell Canada, the Canada Advisory Board at Catalyst, Inc. and Trans Mountain Corporation.

Mitchelmore holds a BSc in Geophysics from Memorial University of Newfoundland, an MSc in Geophysics from the University of Melbourne, Australia and an MBA from Kingston Business School in London, England.

Suncor's operations include oil sands development and upgrading, offshore oil and gas production, petroleum refining, and product marketing under the Petro-Canada brand.