11/23/2020
The November/December issue is here!
Is the latest Convenience Store News Canada and OCTANE magazine sitting in your mailbox at work? Whether you're working from home or prefer to read online, we've got you covered
November/December is CSNC's foodservice issue. While these are trying times, food delivers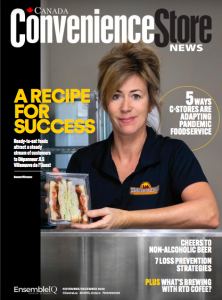 A lot can change in five years. In 2015, Technomic released a report advising Canadian c-stores to "step up" foodservice by improving quality, freshness and healthier meal options.

Fast-forward to 2020 and many Canadian convenience stores are a foodservice destination, going head-to-head with restaurants in the battle for take-out dollars. Granted, some consumers are turning to c-stores because they can't necessarily visit restaurants during the pandemic, but more Canadian c-stores are competing in terms of quality, freshness and, in many cases, healthier options (hey, there's nothing wrong with comfort food, especially during a pandemic). While 2020 has been crushing for the traditional restaurant industry, convenience is already well equipped to satiate harried (and hungry) customers consuming off-premise. 

Foodservice is evolving into a core component of the convenience offering and, increasingly, a strategic priority. In Canada, major chains, including Circle K, Parkland and 7-Eleven, are investing in innovative new food programs and partners, as well as online ordering, home delivery and preorder mobile apps. As outlined in "5 ways the pandemic has changed c-store foodservice," the adaptation is accelerating during the pandemic.

Independent operators also know that the way to a customer's heart is through their stomach. Case in point, my local c-store, Leslieville Pumps. Owners Greg and Judson Flom are masters at carving a unique place in the convenience and gas business by constantly staying one step ahead: During the early days of the pandemic, they were among the first in the neighbourhood to offer curbside pickup for those craving their popular poutines, Caesar salads and BBQ sandwiches. More recently, the brothers shuttered the fuel part of the business and moved to a nearby street-front location: "After an awesome 10 years of being Toronto's most unique gas station we are excited to move into a space that will allow us to focus on our love for BBQ and continue to provide all your convenience store goods."

Revenue streams for convenience stores are shifting to reflect changing consumer habits and foodservice is delivering where other categories are not. At Ure's Country Kitchen, for instance, the food side of the business far outstrips gas in terms of profit margins, while a steady demand for ready-to-eat menu items is a key anchor for Dépanneur JLS Villeneuve de l'Ouest. 

According to the C-store IQ: Foodservice Report, 46% of c-store shoppers purchased grab and go or menu items during their more recent c-store visit, with a sizable proportion saying they were 'highly' satisfied. There's an opportunity to show the other 54% that 'gas station food' isn't what it used to be.

Foodservice is a differentiator and one that convenience operators—chains and independents alike—can turn into a competitive and profitable advantage. 

-Michelle Warren

All this and more in the November/December issue of Convenience Store News Canada.

CONTENTS

 

The Buzz: People, places, news and events

Quick Bites: Cheers to non-alcoholic beer

Top Ops: 7 loss prevention strategies 

C-store IQ: Foodservice Report

Triple play: Foodservice adds flavour to Parkland's customer proposition

A recipe for success: Dépanneur JLS Villeneuve de l'Ouest

5 ways c-stores are adapting pandemic foodservice

The total package: Ure's Country Kitchen

Highlights from Star Women in Convenience Virtual Awards Celebration

Category Check: What's brewing with RTD coffee?

Snapshot: Ipsos VP Kathy Perrotta on delivering the goods in the midst of a changing foodservice industry 

Backtalk: CICC president and CEO Anne Kothawala reflects on 2020, the year convenience returned to its roots

 

OCTANE: Trade events still vital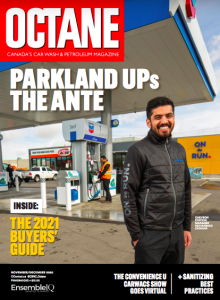 It's fall, and traditionally I would be looking at flight and hotel bookings to trade events such as The Convenience U CARWACS Show. However, this year is unprecedented thanks to a global pandemic holding us all in its nasty clutches. So, travel is off for now, but not trade events. Innovative thinking on the part of event organizers have shows still taking place in the digital world amid altered formats.

Benefits offered by virtual trade shows are many. For starters, consider the savings in hotel, flight and other travel costs associated with attendance at an event. A digital show also means the possibility of larger attendance numbers. Without the upfront costs like lodging and air travel, more people are available to attend. This means more data and more contacts, making the virtual trade show ideal for those looking for sales and supplier leads. Virtual shows are also hyper-personalized with most events offering detailed visitor and exhibitor information. This information makes getting together simpler and more time productive. Gone are the tire kickers and time wasters who stop by booths just looking for samples or a way to kill a few minutes. Visitor and exhibitor profiles mean a targetted approach to trade show contact that results in highly qualified prospects and more business overall. And, a virtual show gives exhibitors more exposure than they would achieve in a one or two-day event. For example, The ConvenienceU CARWACS Show is live for seven days and available online for 90 days, making it easy to discover, learn and meet new contacts from the comfort of your office chair.

Over the past year, the world has changed in so many ways. But, despite the changes, some things stay the same. The need for industries and businesses to connect with their suppliers and markets remains unaltered. Trade shows might not look quite as they did in their current digital formats, but they seek to achieve the same goals. While the COVID-19 challenge has brought with it community and personal isolation that has made it more difficult for businesses to deliver their messages, trade shows still work their magic to bring people together.


Parkland ups the ante

Connect, engage, Learn: 2020 Convenience U CARWACS Show West goes digital

Safety first: Wash operators demonstrate skill sets to clean and sanitize during the pandemic

2021 Buyers' Guide

Q&A with Bob Larocque, new president and CEO at the Canadian Fuels Association

All this and more in the November/December issue of OCTANE.