11/03/2020
The temperature is rising on the sales of cough and cold products

The sales potential for cough drops and cold remedies is nothing to sniff at in c-store channels, especially for the upcoming cold and flu season. 

The numbers paint an interesting picture of the potential. A study from Queen's University shows one in three Canadian adults will have a sore throat, cold or flu in any given month. Then add the wild card, COVID-19, to the mix. By the end of February, sales of cough remedies in the U.S. had already increased by almost 17%, thanks in part to pantry-loading behaviour. Statista pegs the cough-cold-flu segment at almost US$658.2 million with an expected annual growth rate of 5%.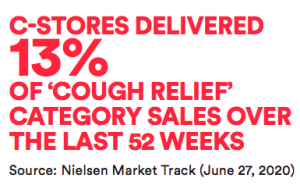 Increasingly, Canadian convenience stores will be prime spots to pick up over-the-counter options to ease cold symptoms. "Convenience stores are critical to the success of Fisherman's Friend," says Voula Papadakos, marketing manager. "In these retail spaces, many purchases are made on impulse; therefore, they are a great place to make quick pick-ups since items are easy to find. When someone feels under the weather or wants to soothe their throat, they need to access remedies as quickly as possible."

During COVID, consumer habits continue to shift with social distancing and avoidance of public spaces unless necessary. "It's possible consumers are more cautious about the number of trips they are making to stores and prioritizing grocery shopping," she notes. "Convenience stores might be used by consumers to purchase necessities in between their big grocery store stock-ups."

Relief of cold and sore throats can be needed anytime, anywhere and c-stores allow accessibility for quick easy relief with thousands of convenient locations outlets, explains Alok Ummat, director of marketing, Ricola Canada. The company, which boasts products formulated with 10 natural herbs and menthol, has seen impressive growth over the last five years. Ricola reports it has contributed 40% of category growth—the largest of any brand. 

"We support our brand through multiple types of promotional activity, both in and out of store, including secondary displays, in-store POP, trade publications, flyer activity, etc.," says Ummat. Ricola is also planning an extensive media campaign this fall, including national TV ads with social and digital media. In addition, it is expanding its roster this year, introducing two new products—Menthol Centres with a strong mentholated liquid that features twice the amount of menthol as its original sore-throat drops, as well as an extension of its successful Extra Strength line, with drops featuring an icy lemon flavour and three times the menthol. 

Halls continues to be good medicine for convenience stores and gas stations. "They are key drivers of sales in the overall 'cough relief' category, which is worth $120 million in sales annually in Canada, and for the overall Halls brand," says Julie Sirois, VP of sales, Mondelēz Canada. 

The convenience and gas sector has accounted for 13% of 'cough relief' category sales over the last 52 weeks, with Halls' market share over 70% in that space, according to Nielsen Market Track (June 27, 2020).

"Interestingly, 50% of cough drop usage occasions actually occur out-of-home," Sirois points out, "as consumers look for solutions to cough, cold and sore throat symptoms during their busy lifestyles."

Just in time for the cold/flu season, Halls is introducing new larger pack sizes with easy-open pouches containing 14 individual pieces, featuring top-selling flavours, cherry and honey lemon. Parents will have more options in the Halls Kids Cough & Sore Throat Pops portfolio, with new Halls Kids Honey Apple Pops. 

This year, more than ever, consumers will be mindful of, and eager to alleviate, cough and cold symptoms. C-stores are positioned to provide relief. 



'Tis the season to maximize sales of cold/cough remedies with these top tips



Position items smartly next to top-sellers, like water, tea/coffee, facial tissue and other pharmacy-related items.




High visibility is the key. Display products at eye level and place counter units at the front of the store.




Mix it up. Make sure you've got the best assortment of products to appeal to a wide range of customers. 




Expand your options. Consider adding the latest products from trusted brands to those you already carry, including new sizes, flavours and package types.




Keep the momentum going. Chances are, your clients will need cough drops and other cold soothers all year round. 




Originally published in the September/October issue of Convenience Stores News Canada.