04/08/2019
Treat trends: The frozen explosion
A few months back, Whole Foods Market predicted "trailblazing frozen treats" would be one of the top trends for 2019; it turns out that forecast is right on the mark. A proliferation of new, low-calorie/high-protein ice cream brands—with California's Halo Top leading the way—as well as plant-based and globally-inspired treats are hitting freezers in a big way.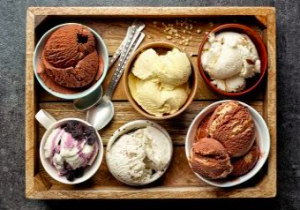 "There's been a huge influx [of new frozen desserts] here, especially in the last year with Halo Top coming in from the U.S.," says Adam Tully, director of grocery operations at Calgary Co-op. Indeed, Halo Top's name comes up frequently when speaking with grocers and industry experts about recent trends in frozen desserts.

"A trip to the grocery store reveals innovation in the permissible indulgence space; Halo Top, in particular, with its low-calorie claim, has garnered lots of attention," says Joel Gregoire, associate director of food and drink at Mintel.

Founded in 2012, Halo Top really only began to explode in popularity across the U.S. in 2016, and entered the Canadian market to great fanfare in 2018. With a range of fun flavours like Birthday Cake, Pancakes & Waffles and Oatmeal Cookie, Halo Top boasts just 80 to 100 calories per serving (and 280 to 360 calories per entire pint), along with low sugar and high protein content. "I think people have always loved ice cream, but it became hard or sometimes impossible to fit ice cream into any diet or lifestyle," says Doug Bouton, president and COO of Halo Top Creamery. "Halo Top provided an option so people can enjoy ice cream every day without feeling bad about it or breaking the calorie bank."

But Halo Top is, by no means, the only successful player in the fast-growing low-cal/high-protein ice cream space. Startups like CoolWay, founded by three young Montreal entrepreneurs are doing well in the market, while the large traditional players are also getting in on the trend. Nestlé, for instance, has launched a high-protein/low-cal brand called Goodnorth; Breyer's has launched Breyer's Delights, featuring 16 grams of protein and between 280 to 360 calories per 500-mL package; and Ben & Jerry's recently launched its low-cal Moo-phoria line. "Low-calorie, high-protein frozen desserts are here to stay in 2019," says Rob Luscombe, Ontario grocery buyer for Whole Foods.

Luscombe adds that a number of dairy-free and plant-based options are also showing up on Whole Foods' shelves, including those from Daiya and the Chufa Co., which makes frozen desserts based on tigernuts.

Calgary Co-op's Tully agrees: "everyone is conscious about the plant-based proteins now." Innovations in plant-based frozen treats are coming from all directions including major traditional players: Ben & Jerry's got in on the action early, launching vegan varieties starting in 2016, while Häagen-Dazs has launched a non-dairy collection of ice cream and ice cream bars, and Magnum Bar just debuted a non-dairy, vegan-certified bar in the United States in February.

That said, a great deal of innovation in the dairy-free frozen dessert space is coming from smaller players and start-ups, such as Peterborough, Ont.-based Chimp Treats. Founder Brooke Hammer started Chimp Treats while still a student at Trent University. As a vegan and a varsity athlete, "I was all about health and nutrition," she explains, so she set out to develop an ice-cream-like treat made solely from fruit. The result was Nice-cream, a frozen dessert made from 100% fruit (no other ingredients) available in three flavours: Banana, Mango Banana, and Strawberry Banana. First launched in 2017, Nicecream quickly gained traction and is now available in stores across the country, ranging from smaller independent and niche retailers to major chains like Sobeys, Metro, and Loblaw.

Hammer says her customer base is broader than she initially imagined. "When I started I really thought it would be niche to vegans, and you know, people whose ethics in terms of sustainability were kind of the driving forces behind their purchasing behaviour," she says. "But the majority of our customers aren't vegan or even lactose intolerant. It's typically women aged 20 to 35, they have an interest in health and nutrition, they're working, educated, on the go." Parents of babies and young children are fans as well, she says, as kids enjoy the taste while parents like the health aspect.

Still, despite increased demand for "permissible indulgences" in the frozen dessert space, the truly indulgent, full-fat ice cream products continue to be popular. "Let's not kid ourselves, the Häagen-Dazs of the world and all those indulgences are not going away," says Calgary Co-op's Tully. Frank Yunace, operations manager at Pete's Fine Foods in Halifax, agrees: "People are buying the 'true' ice creams—we still sell a ton of that stuff."

Gregoire says Mintel's data suggests classic indulgent ice creams remain in demand. "When asked what characteristics [people] associate with ice cream, 'good tasting' (57%), 'satisfying' (39%) and 'indulgent' (37%) rank at or near the top," he says. "What these figures indicate is there is indeed room for indulgent and, particularly, quality ice cream."

Canadians are interested in trying innovative flavours as well, says Gregoire, noting that Mintel research shows interest in premium-flavoured ice cream (such as burnt toffee or olive pistachio), internationally inspired flavours (like green tea or mango) as well as flavours that are based on alcoholic beverages like rum or liqueur. "Two of these three areas, in particular, convey opportunity for more adult-based flavours that provide a sense of sophistication," he says.

READ: The Japanese ice cream treat heating up the freezer aisle

In terms of international inspiration, grocers say new Asian-inspired frozen treats like mochi are becoming popular. Originating in Japan, mochi is a small, round, sticky rice dumpling filled with ice cream. A number of Canadian retailers are starting to add self-serve mochi bars in their stores, but packaged mochi products are hitting the market as well such as My/Mo Mochi, which offers boxes containing six mochi desserts in flavours such as Green Tea, Ripe Strawberry, Sweet Mango and Dulche de Leche. "Mochi has gained a lot of traction," says Whole Foods' Luscombe. Pete's Yunace agrees: "We sell a lot of mochi."

Yunace says the brightly coloured packaging typical of mochi products, and some of the other new products on the market, helps attract people to the frozen dessert section. "So it's all about using that colour, and keeping the freezer full … that's what brings people to the freezers, because you need to get them to open the door." His store does in-store sampling of new products to promote sales as well, primarily in the spring and summer, and mostly with local suppliers.

According to Calgary Co-op's Tully, working with local suppliers is a smart move, as a lot of his customers prefer to support local. "Here in Calgary alone, we have tons of [local ice cream and gelato makers]," he says, pointing to Fiasco Gelato and Made by Marcus as examples. "The more you can be in the local game, the more traction you're going to get with your customers."

Markdale, Ont.-based Chapman's Ice Cream takes pride in being a Canadian company, emphasizing its Canadian-ness in much of its marketing—particularly that it's made with 100% Canadian dairy—in part to attract those people who prefer to buy Canadian. "Consumers do want to buy Canadian," says Mary Breedon, sales and marketing director at Chapman's. "We will continue to do our part to make sure that Canadians know that we're out there, that we only use 100% Canadian dairy, and that we are committed to that."

Breedon says Chapman's range of ice creams and frozen novelties focus on value for your dollar, which makes them popular with families, as does the fact Chapman's aims to offer options for families with dietary restrictions, too. "Chapman's, in general, meets a lot of specific dietary needs—peanut and nut free, gluten free, we have the 'no sugar added' line, which is also lactose free, so we are essentially a one-stop shop," she says.

Yunace says the variety of frozen treats for people with special dietary needs has increased across the board, which he feels helps boost sales. "Now, it's 100% of the population that we're catering to … we're able to meet the needs of people with special dietary needs so they can indulge as well."

Have all of the new product innovations in the category affected sales of frozen treats in general? While long-term data from Mintel shows, overall, people are eating less ice cream than they were a decade ago, Nielsen's data reveals dollar sales of "ice cream and related products" in Canada were up by 11% in the last year. And according to Yunace, sales of frozen desserts are booming at his store: "Especially last summer—it was like, 'Wow, we're selling a lot more ice cream this year than we have in the past!'"

Originally published at Canadian Grocer.