12/14/2020
Ure's Country Kitchen: Rural charm with important 'links' to its community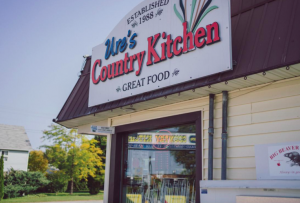 Harrow is a typical, small Ontario town, with just 3,000 residents. It's less than a 10-minute drive to the north shore of Lake Erie in the southwest part of the province. In summer, birdwatchers, cottagers and fishermen flock to the area. In the midst of it all is Ure's Country Kitchen—a convenience store/restaurant/ice cream parlour/gas station with a newly opened mini-golf course. Its owners, husband and wife Laurie and Randy Ure, have operated the business for more than 32 years. Despite "being in the middle of nowhere," as they say, they have had consistent sales of over one million dollars annually. 

It hasn't been easy, but the couple has done well because of their ability to pivot frequently. "We are always reinventing ourselves," says Laurie, who mainly takes care of the restaurant and bookkeeping duties. "We're independents so we can make changes without having to ask permission."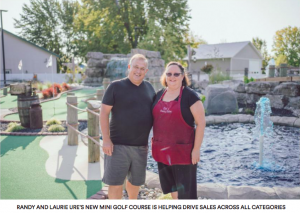 That has become essential in remaining a viable business in an increasingly competitive environment. "We are always looking for new ways to diversify our revenue stream," explains Randy, "because the margins on things like tobacco, gas and lottery tickets have gotten smaller and smaller."



Adding a mini-putt golf course to the mix made sense. They did plenty of research first on design, building, maintenance and labour costs before they moved ahead, opening in June 2020. They expect it to pay for itself in just a few years. In the meantime, it is already paying off in unexpected ways. Ice cream sales have almost tripled; gas, snack and restaurant sales have leapt, too. 

The novelty of the new mini-golf offering deserves some credit, but so does COVID in a strange way. Sales (as of November 2020) are up from what they were a year ago. Despite big-box competitors nearby, customers have been shunning those in favour of Ure's Kitchen. "They don't wait to be stuck in long line-ups, especially now," says Laurie. "Our clientele know they can come here and get their gas, chips and pop, or withdraw money from our ATM, without the hassle. We even pump their gas and bring the debit machine to them. They don't have to get out of their cars."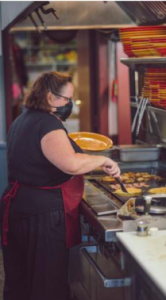 The restaurant, newly remodelled and expanded with more seating space and a patio, has done well, too. Though it represents just 8% of total sales, its profit margins are impressive—about 350%. For comparison, gas sales offer a 7% profit margin. The eatery has built a reputation for its breakfast menu, featuring high-quality ingredients and homemade staples like homemade eggs Benedict, home fries, omelettes and blueberry pancakes—all made from scratch. 

In the c-store space, groceries haven't been great sellers. They stock a few pantry basics, but they've trimmed down their selection in recent years. Instead, Randy and Laurie offer an impressive selection of soda pop (more than 200), including retro favourites like Faygo and Tahiti Treat. Its 16-ft. candy aisle, placed strategically next to the ice cream freezer, delights kids and grownups with U.S. imports, including Baby Ruth chocolate bars, that customers won't find easily anywhere else.

"This place is hopping on the weekends," says Randy. "It's a destination where neighbours can meet and hang out. We like being a destination for them and visitors to our community."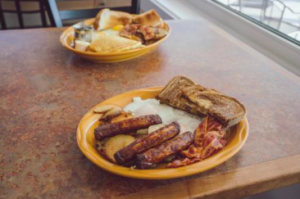 FOODSERVICE SNAPSHOT




Ure's Country Kitchen opened in 1988.




The restaurant serves breakfast and lunch 7 days a week from 8 a.m. to 2 p.m.




Items are available for eat-in or take-out.




The three-page menu features breakfast classics, specialty sandwiches and an array of items hot off the grill.




The newly remodelled restaurant was expanded to accommodate more seating and a patio. Though it represents just 8% of total sales, the restaurant's profit margins are about 350%.



---