03/09/2020
Couche-Tard leader signs up to promote diversity and inclusion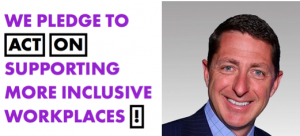 Alimentation Couche-Tard president and CEO, Brian Hannasch, has joined the CEO ACTION pledge, which commits to diversity and inclusion in the workplace.

The growing movement aims to rally the business community to "advance diversity and inclusion within the workplace by working collectively across organizations and sectors. It outlines a specific set of actions the undersigned companies will take to cultivate a trusting environment where all ideas are welcomed and employees feel comfortable and empowered to discuss diversity and inclusion."

More than 900 CEOs have joined the initiative and by signing, the company says: "Hannasch has positioned Couche-Tard to become the first convenience store retailer to join this action for diversity and inclusion, a vital component in strengthening the corporation's organization and commitment of growing together."

To accompany the pledge, and in the wake of International Women's Day, Couche-Tard is launching an internal global campaign, "Together we make a difference," where all employees are invited to take their own personal "I ACT On" pledge.

"I am excited for the entire corporation to join me in this CEO ACTION pledge as I firmly believe that together we will make a difference by creating and maintaining a diverse workforce," Hannasch said in a statement. "Promoting diversity and inclusion is a key component of our culture of growing together and is critical to continuing to be a preferred choice for our diverse customer base."

The move comes on the one-year anniversary of the formation of Couche-Tard's Women's Council, a business resource group with the mission of creating winning conditions for women within the corporation.

Le by chief human resources officer, Ina Strand, the council is part of Couche-Tard's Board of Directors' commitment to diversity and inclusion. Its work includes bringing the "Together we make a difference" pledge to the corporation, introducing the first training modules on Unconscious Bias, as well creating career development workshops in Couche-Tard's global offices and stores.

It's a far-reaching commitment—the Couche-Tard network includes than 14,800 company-operated and licensed stores around the world.