04/18/2019
7-Eleven takes convenience to a new level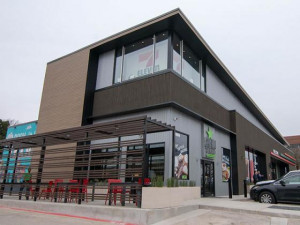 C-store chain 7-Eleven is redefining the convenience store experience with a new concept called a "lab store."
The company recently opened the new concept in Dallas where shoppers can try and buy the retailer's latest innovations. The store features a streamlined checkout process that allows customers to pay through their phones, indoor and outdoor seating, and a product assortment that ranges from handmade tortillas to craft beers to organic teas on tap.
Described as a "lab store and an experiential testing ground," the outpost is the only one of its type in 7-Eleven's portfolio. (The Dallas News reported that another lab store could open near Dallas later this year, and that additional stores are planned for San Diego and Washington, D.C.) It is located less than two miles from the original Southland Ice House in Oak Cliff where Dallas-based 7-Eleven pioneered the convenience retailing concept more than 90 years ago. No work, yet, on bringing the concept to Canada.
"Convenience retailing is light years away from the days of bread and milk being sold from ice docks in 1927, and the industry is changing at a faster rate than ever before," said Chris Tanco, 7 Eleven executive VP and COO. "7-Eleven stays at the forefront by pushing the boundaries and being unafraid to try new things. This new lab store will serve as a place to test, learn and iterate new platforms and products to see what really resonates with customers and how we can use those learnings to influence future store designs."
The lab store is the first 7-Eleven location to incorporate the Laredo Taco Company taqueria, and is Laredo's first location in Dallas. The brand is known for its handmade tortillas made from scratch in stores every day. 7-Eleven acquired the taqueria along with Stripes convenience stores in South Texas as part of the 1,000-store acquisition from Sunoco in 2018.
Digital initiatives that enhance the shopping experience are woven into the store, including "scan & pay" technology that allows customers to skip the checkout line and pay for their purchases on their smartphones.
Other store features include:
• Indoor and patio restaurant-style seating in the Laredo portion of the store as well as bar-seating across the front windows in the retail space;
• Made-to-order coffee drinks, cold-pressed juices, smoothies and agua frescas that give customers the option to customize their drinks in a full-service beverage format, and such novelty beverages on tap as nitro cold brew, kombucha and organic teas;.
• "The Cellar," an alcove dedicated to an expanded selection of wines and craft beers, with a nearby growler station that features a rotating selection of local craft beer, cider and ales on tap;
• A cold treats bar with frozen yogurt, ice cream and multiple toppings; and
• Cookies, croissants and more baked-in-store daily.
Many of the new items in 7-Eleven's lab store are limited-time offerings, the company said.
"A lot has changed in retail and continues to change rapidly, especially the shopping experience," Tanco said. "This lab store is customer-focused and will explore new ideas that weren't even on the retail radar a few months ago."
Based in Texas, 7-Eleven operates, franchises and/or licenses more than 67,000 stores in 17 countries. In Canada, 7-Eleven has grown by 25 percent since the fall of 2016 and has 650 stores across the country.
With files from Michelle Warren. Originally published at Store Brands.