04/16/2020
Foodservice fights back after 800,000 jobs lost due to COVID-19
Restaurants Canada estimates that 800,000 foodservice jobs have already been lost nationwide due to COVID-19 and might not return if current conditions continue.
Canada's $93 billion foodservice industry represents 4% of the country's GDP and many run in tandem or share sites with c-stores and gas stations.
Nearly 10% of the country's restaurants have already closed permanently, and many more might close by the end of April if conditions don't improve.
With businesses now struggling to pay rent and other bills due in April, the national association has conducted a survey to shed light on the state of the industry. Responses from foodservice operators across the country revealed:


Four out of five restaurants have laid off employees since March 1.


Seven out of 10 foodservice operators will further cut back on staff hours or lay off more employees if conditions do not improve.


Nearly one out of 10 restaurants have already closed permanently and another 18% will permanently close within a month if current conditions continue.


"Not only was our industry among the first to feel the impacts of COVID-19, we've been one of the hardest hit so far, with nearly two thirds of our workforce now lost," Shanna Munro, Restaurants Canada president and CEO, said in a statement. "In our 75 years of existence as Canada's national foodservice association, these are by far the worst numbers we have ever seen."
If conditions do not improve, Restaurants Canada estimates that foodservice sales will be down nearly $20 billion for the second quarter of 2020.
"Restaurants are vital to the social and economic fabric of communities across Canada, but operating a food service business is tough, even in the best of times," said Munro.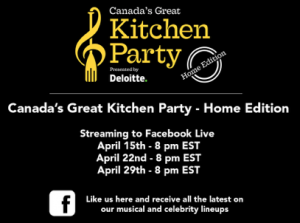 In response hundreds of restaurant owners are being joined by celebrities and culinary leaders to support a new initiative - Canada Takeout. It kicked off last week and every Wednesday from here on out is to be Takeout Day.
Canadians are encouraged to order from their favourite local restaurant offering takeout or delivery. In tandem, Canada's Great Kitchen Party — Home Edition is hosting a variety show on Facebook live, featuring musical entertainment an d appearances by celebrated athletes.