03/09/2020
Carwash for a Cure seeks campaign supporters
Industry initiative is raising money for the Canadian Spinal Research Organization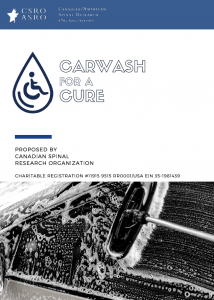 During The Convenience U CARWACS Show in Toronto last week, attendees on the car wash side gathered to hear Karen Smith, compliance and training manager at Valet Car Wash, discuss Safety Inspections and how operators can prepare to keep their site safe for customers and employees - it was a fitting segue to discuss the industry-wide fundraising initiative. 
Smith took close to 100 attendees through a full slate presentation (Compliance in the Workplace; Are you ready for an inspection) that covered all the bases. She offered insights from information posting to Ontario Health and Safety requirements, to action plans and program excellence.
Key takeaways were that its never too soon to implement a safety plan and the payoffs help keep your operation running smoothly. "If you see an issue, act on it," she told participants. "Don't wait for inspectors to discover a problem. Be proactive."
Following Smith's discussion, the stage was opened to Barry Munro who was promoting Carwash for a Cure, an offshoot from Paving the Way for a Cure, a fundraising program that has raised more than $250,000 for the Canadian Spinal Research Organization (CSRO), a group that assists those challenged with spinal cord impairment.
Munro is himself a survivor of a serious spinal cord injury. The injury has not slowed him in his efforts to bring this condition to the forefront of public awareness and his speaking date at the Canadian Carwash Associations' morning seminar session was a good case in point. With Car Wash for a Cure, Munro invites members of the industry to help raise funds for a study of neuromodulation, one of the most promising therapies in spinal cord injury research today. 
To get involved in this industry-wide fundraising initiative, contact Karen Smith.