08/13/2019
Chocolate satisfies with a balance of trend and tradition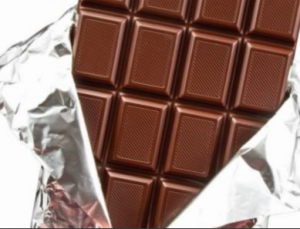 Canadians' love for chocolate is alive and well, as they visit convenience stores for old favourites, as well as new flavours and sizes to satisfy cravings for the "food of the gods."

The latest figures from Nielsen Canada show that sales of chocolate in the convenience and gas channel in Canada for the year ended March 2, 2019 grew by 2% to $178 million. Sugarless chocolate led the growth (up 35%), followed by seasonal chocolate products (6%), and every day/sugared chocolate products (2%). Only every day seasonal chocolate showed a decline in sales (3%).

There are several new trends emerging in the chocolate category. Joel Gregoire, associate director of Mintel Canada Food and Drink Reports, says there's been an evolution in chocolate confectionary with the introduction of larger-sized tablet chocolate bars, thins and more seasonal chocolates. 

"This can be interpreted as being a shift in the formats that Canadians are turning to for their chocolate fix and points to the importance of chocolate confections that are sold not just at the checkout line, but in other areas of the store," he says, 

In addition, chocolate manufacturers can learn from the makers of alcohol beverages, who are infusing products with exotic new flavours and highlighting interesting twists, such as cask-aged bourbon and strawberry champagne. 

Ruby chocolate, for instance, is taking the industry's colour palette beyond white, milk and dark. Barry Callebaut introduced ruby chocolate in September 2017, calling it "the biggest innovation in 80 years." Artisan chocolate makers quickly embraced the flavour and now confectionery manufacturers are giving old favourites a new spin.

"The new ruby Kit Kat, made from the natural ruby cocoa bean, has a characteristic pink hue and unique flavour that consumers are raving about," says Ryan Saunders, vice-president marketing, confectionary at Nestlé Canada.

Flavour infusion is also the secret to creating popular better-for-you products. "While white chocolate will always be an indulgence, there are ways to infuse elements of nutrition through superfood ingredients, such as chia seeds, matcha, honey lavender, turmeric, orange chunks and coconut into dark chocolate, which now has a well-established reputation for offering added antioxidants," says Gregoire. 

In addition, convenience retailers have an opportunity to drive sales and satisfy customers' desire for new experiences by mixing chocolate delights with other snacks, such as pretzels, popcorn and nuts.

"We know that indulgence is a key driver of food selection in the evening for a snack in front of the television, for example," says Gregoire, adding the picture is more complex in the afternoon when people are looking for a boost. Convenience stores can answer all needs by offering snack kits with chocolate, as well as a solid mix of new format and entrenched brands "to satisfy conflicting wants of convenience, portability and energy."

The chocolate category is abuzz with new tastes and trends, however old favourites still reign.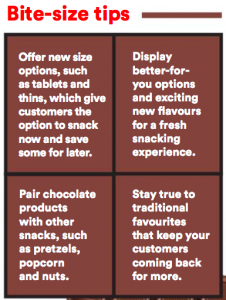 "While there are always fun and interesting new products in the category, nothing comes close to the old classics," Saunders says. "While we sometimes get excited about what is new, if you don't have the top pr
oducts within arms' reach you'll lose sales opportunities.  Retailers can maxmize sales and profit by continually understanding and responding to local and macro trends as they change and evolve."