10/11/2019
CSNC honours winners at inaugural Star Women in Convenience Awards Breakfast
Industry leaders and supports came together to celebrate the 2019 Star Women in Convenience at the inaugural Awards Breakfast hosted by Convenience Store News Canada.

[caption id="attachment_21106" align="alignright" width="300"]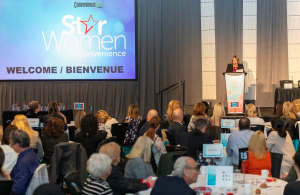 Group brand director Kathryn Swan welcomed attendees from across the country[/caption]

"We are encouraged by the response and how the industry has embraced these awards for women," group brand director, Kathryn Swan said in her opening remarks. "This year's 17 winners come from all facets of the c-store spectrum—operations, sales, management, distribution and product development. They are incredible examples of women who demonstrate commitment, innovation and leadership in convenience."

Now in its second year, Convenience Store News' Star Women Awards recognizes exceptional women making a difference in the convenience industry. The inaugural event was held Oct. 8, 2019 at the International Centre in Mississauga, Ont.

[caption id="attachment_21115" align="alignright" width="300"]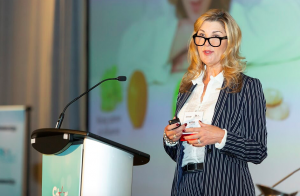 Keynote speaker and Ipsos VP Kathy Perrotta[/caption]

In addition to the awards, attendees were treated to an insightful keynote by Ipsos Canada VP Kathy Perrotta, who delved into trends and habits shaping consumers' food choices, while highlighting the opportunities for c-stores to up their convenience factor by becoming healthy food and meal destinations for busy Canadians (check out the November/December issue of the magazine for a synopsis of Kathy Perrotta's keynote).

[caption id="attachment_21103" align="alignright" width="300"]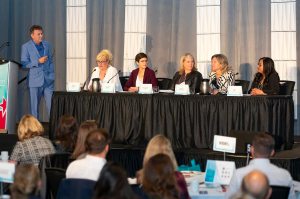 Star Women Leadership Panel[/caption]

Tony Chapman of Chapman Reactions moderated the Star Women Leadership Panel, featuring Bonnie Birollo of Circle K, Caroline Evans of JTI-Macdonald, Marie-Helene Jauron of PepsiCo, Wendy Kadlovski of Nicholby's and Azra Khan of RanaCorp/Shell Canada. It was a dynamic and authentic conversation about the importance of mentorship, taking risks, leading by example and the role the convenience industry plays in community and families.

In addition to honouring the 17 2019 Star Women, the event paid homage to the 2018 winners. The 2018 and 2019 winners travelled from across the country to attend the event, many bringing with them colleagues, friends, family and community leaders.

 



Or, keep an eye out for the upcoming November/December issue of Convenience Store News magazine.
Thank you to everyone who attended and supported the Star Women in Convenience Awards!