09/14/2020
Inabuggy launches Inabuggy-Mart, a new 'hyperlocal' service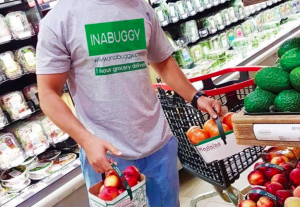 Online grocery delivery service Inabuggy is continuing its aggressive product rollout with the addition of a "hyperlocal" offering called Inabuggy-Mart. It joins existing Inabuggy services spanning traditional and specialty grocery stores, foodservice providers and alcohol retailers.

Inabuggy-Mart offers online ordering for approximately 1,000 SKUs ranging from convenience items such as bread, milk, eggs, snack foods and confectionery, to flowers and face masks. It will support family-owned or independent stores including butcher and flower shops, many of which don't have the necessary resources to make deliveries.

The service will be available seven days a week in the Greater Toronto Area, Ottawa, Vancouver, Montreal, Calgary and Edmonton. Inabuggy is promising delivery within as little as 30 minutes, which it claims is a first for a Canadian grocery delivery service.

"What we've noticed is that customers are not just looking for a wider assortment of products, they're also looking for a quick turnaround time," says Inabuggy founder and CEO Julian Gleizer. The company will charge a $9.99 delivery fee, with no minimum order, compared to $19.98 for Inabuggy.

Gleizer says the nature of the participating stores, all of which provide easy in-and-out access for Inabuggy's shoppers, allows it to offer 30-minute delivery in the more densely populated areas. The company is still enlisting local stores for the service, with Gleizer saying it has recruited a "significant number" of operators across the country.

The launch of Inabuggy-Mart comes as online grocery has exploded because of the pandemic. Gleizer admits Inabuggy was caught off-guard by the initial surge in customer demand, but has adapted as the crisis has continued. Its technology has advanced five years in the past five months, he says.

Gleizer says Inabuggy was turning the corner on profit just as the pandemic hit, but increased consumer demand has further driven revenue. It has also continued to add shoppers to meet the increased demand, now employing more than 1,000 shoppers across the country.

The service's average order value, meanwhile, rose from about $218 pre-pandemic to around $243, while the number of times the average customer is using the service has rise from to 11 times per month.

Inabuggy currently offers delivery of more than 70,000 SKUs from more than 50 retail partners in over 200 regions. It has also formalized relationships with CPG companies including Conagra Brands, Fruits from Chile, Kraft Heinz Canada, The Oppenheimer Group and SC Johnson, among others.

Originally published at Canadian Grocer.