10/27/2020
Meet your match at 2020 Convenience U CARWACS Show West Digital
Registration continues for The Convenience U CARWACS Show West Digital, which kicked off November 4 and features exciting matchmaking capabilities that will connect attendees with key suppliers across North America.
The ConvenienceU CARWACS Show is where Canada's convenience, gas and car wash sectors come together to discover new products, new equipment solutions, and learn new business strategies. 
This new interactive event is tailored to be flexible and interactive with format that extends to 90 days, 

benefitting both exhibitors and visitors.

The first step is to register online at
WWW.CONVENIENCEU.CA
to create your online profile (
registration is complimentary for all retailers/operators in Western Canada
).
An exclusive AI program is designed to match attendees with exhibitors based on the products and services your are looking for to grow your business. For the first seven days of the digital event, attendees could browse matches and arrange 1:1 meetings in real-time.
The show continues for another 83 days - attendees can access education sessions, product information and other features, including exhibitor profiles, embedded videos and all the links available to registrants.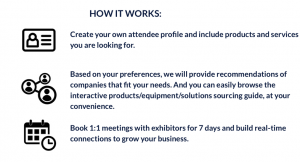 To find out more about the digital format CLICK HERE.