04/21/2020
Sinclair Cleaning Systems: Combat COVID-19 with a proven cleaning and disinfecting combo
Clean, disinfect and knock-out viruses with the one-two punch of dry vapour steam and an EPA-approved botanical disinfectant.
In order to properly clean and disinfect, even tiny nooks and crannies, Sinclair Cleaning Systems recommends the Optima Steamer XD in conjunction with Concrobium Disinfectant Cleaner II. The two work together to offer an effective cleaning and disinfection strategy that both sanitizes and deodorizes.
Ideal for many uses, from general retail cleaning to foodservice and automotive detailing for fleets, it's the perfect combination to help protect your staff and customers.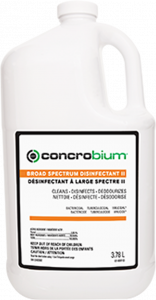 Concrobium Disinfectant Cleaner II is next-generation botanical disinfection technology that safely and effectively eliminates viruses and bacteria.
The Optima Steamer, which reaches a temperature of 275°F at the sprayer tip, even cleans and sterilizes hard to reach areas. This next-level steamer uses the latest technology to remove stains, grease, dirt and odours in a quick and efficient manner, all while generating no waste water run-off.
Steam is proven to be safe for a variety of surfaces, including upholstery, vehicle interiors and exteriors, and floors, as well as other non-porous surfaces - indoors or out.
Contact Hugh Sinclair TODAY at:
1-800-265-0505 or 1-519-436-9539