01/30/2014
Terry Yaldo finds success with Nestle-NFL promotion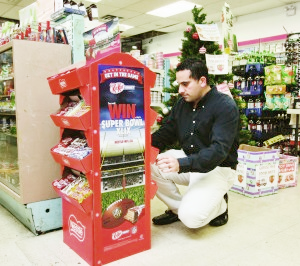 Terry Yaldo, a Windsor, ON c-store owner, has been running the Nestle-NFL Get in the Game promotion since the fall, and so far, it's been a hit with his football-loving customers.

"Football is so big here. Nestle supplies us with some great props, so we like making extra space to help increase sales," he says. It's been attracting so much attention that just in time for the Super Bowl on February 2, Yaldo is adding to the display to build on the hype.

Here are three ways Yaldo suggests winning with any promotion:

1. Make room. "I have a lot of football fans and they like seeing the display go up," says Yaldo. "It's very eye-catching when done right." That's why he dedicates significant floor space to the promotions he knows his customers want to see.

2. Work with suppliers. "This is a win-win for us and for Nestle; we like to support the suppliers that support us," he says. Work with your supplier reps to get supporting POS materials and merchandising ideas so you can build a top-notch display.

3. Talk to your customers. Let your customers know about the promotion, including contest details, affiliated events or causes, and participating products.

To learn more about the Nestle-NFL promotion, click here.