10 tips for getting the most out of The Convenience U CARWACS Show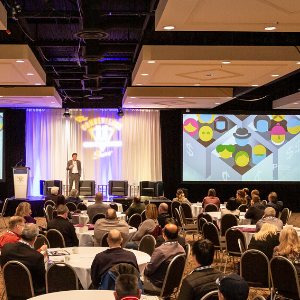 The Toronto Convenience U CARWACS Show brings together retailers, distributors and suppliers from the convenience, gas and car wash industry for two days of learning, networking and discovery of the latest and greatest products.

In her entertaining and interactive keynote, Disrupting the Distuptors, Lee-Anne McAlear will highlight how to take successful innovative strategies from other industries that are also margin-thin and customer-dependent and make them work for small and medium sized c-store business owners.

Getting educated

The educational workshops and seminars are a focal point of The Convenience U CARWACS Show, and there are plenty of new and exciting sessions designed to broaden industry knowledge and lead to business success.

The aim to help retailers improve their in-store environment with sessions like "Driving lottery commissions to your store" and "Effortlessly increase your convenience and gas revenue."

There will also be plenty of information to help independent, banner and chain retailers brush up fundamentals, such as "Compliance in the workplace, are you ready for an inspection?"

Check out convenienceu.ca for a full list of educational workshops and seminars.

Here are the top 10 tips to get the most from the show:

1. Get pumped. There's a lot to see and do in two days, so put yourself in the right mindset when you arrive at the show to make the most of the experience.

2. Prepare to learn. Attend as many educational seminars as you can to learn best practices and insights you can take back to build your business.

3. Join the discussion. Other retailers and operators have valuable experiences to share, so participate in roundtable discussions.

4. Pay attention. Keep your eyes and ears open during educational sessions and during discussions to absorb useful information to enhance your site.

5. Make connections. Spend time with other retailers, establishing meaningful connections that will last beyond the show experience.

6. Map it out. Determine which booths to visit before you head onto the trade show floor; it's a large space, and you'll save time if you know exactly where to go.

7. Build relationships. Foster a stronger connection with your suppliers by visiting them on the show floor for beneficial face-to-face time.

8. Keep an open mind. When you engage with other retailers and industry experts, listen to their ideas and advice; you never know what might spark a great idea.

9. Be daring. Look for ideas that fall outside your comfort zone; don't be afraid to try something new!

10. Enjoy yourself. From lunch and learn sessions to cocktails and gala parties, this is your change to celebrate the convenience, gas and car wash industry!