4 things you need to know about staffing
Merv Jebb considers himself to be a lucky c-store owner. Since he bought Virden Hi-Way Grocery in Virden, Manitoba two and a half years ago, he's never had trouble finding or retaining great part-time staff...
?title=0&byline=0&portrait=0&color=f26716
[caption id="attachment_4131" align="alignright" width="360"]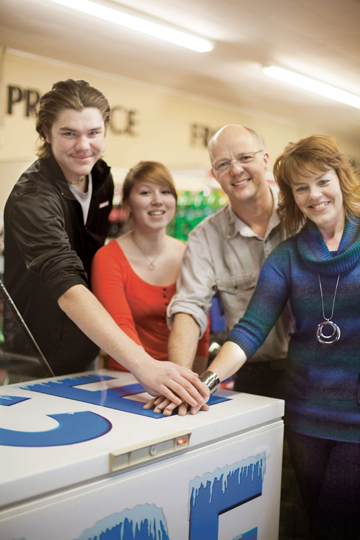 Photo by Mandy Wark[/caption]

Merv Jebb considers himself to be a lucky c-store owner. Since he bought Virden Hi-Way Grocery in Virden, Manitoba two and a half years ago, he's never had trouble finding or retaining great part-time staff. For many retailers, part-time staffing is the Achilles heel of their business, with high turnover rates and a lack of engagement.

But not for Jebb.

"I've been very fortunate in that people want jobs here. It's a good working environment," he says. The store is known for its standard convenience and grocery items, but it also offers an impressive foodservice program, with fresh baked goods, hot lunches and even a catering business that runs out of the full-service kitchen in the back of the store.

Although he can't pin down exactly why his employees love working at the Hi-Way Grocery, he does know that keeping his staff happy is all about finding the balance between the needs of the employer and those of the employee.

How does he do it?

1. He hires right

For Jebb, successful staffing starts during the hiring process. He pays close attention to body language, confidence, and friendliness during the initial meeting. He calls it a gut feeling, and if he's got it, he'll usually make the hire.

"It means the world to me if a potential employee can look at me when they're asking for a job. It shows they have enough self confidence to stand there and look at the customers and engage in a conversation with them, too," he explains.

Above all, hiring "positive" employees is key. "If you keep hiring people with a positive attitude, it should continue that way. So really, I don't do much, I just let them be who they are. If one person is positive, that will usually spread, and if one person is negative, that can also spread," he says.

2. He's flexible

In addition to the two full-time employees, who are the cooks for the foodservice and catering side of the business, Jebb's store has 12 part-time employees. This number might seem huge to most retailers, but staffing up has served Jebb (and his employees) very well.

"I keep as big a staff as I can. Part-timers want flexibility; nobody wants to be trapped," he says. He understands that many of his staff members are still in school, or have young families, and need flexibility in their schedules. "When you offer flexibility as an employer, and you're able to stick with it, it's a big deal."

One of the biggest advantages of his store's positive reputation is that when he's looking for a new staffer, he doesn't need to look very far. "We're a small town of about 4,000, but when I put an ad in the paper, I usually get multiple applications," he says.

3. He shares responsibility

Employees want to feel as though they're part of a valuable team, so Jebb recommends providing a challenging but fulfilling experience. "My staff members get a lot of responsibility," he notes. "I treat them like adults. If you treat them like 13-year olds, then that's what you'll get."

His part-time staff not only take care of the cash and cleaning duties, they're also responsible for some of the foodservice prep work in the summer. His part-timers often peel potatoes or chop carrots for the potato and macaroni salads they serve in the summer months. To his surprise, this has been an important learning experience for many of them.

"A lot of these kids come in with no idea about how to hold a knife, but by the time they're done, they can whip through it. It's a good life experience for them," he explains.

4. He focuses on the customer

Jebb's first priority is always the customer. "I demand that the staff be friendly to the customers. Any mistakes they make in the back office or with ordering, I can fix. But customer relationships are a priority. That's so important to me," he says.

His staff members are encouraged to maintain open dialogue with him, and he's always willing to consider their new ideas or solutions to a problem.

With a focus on providing each and every customer with a positive experience, it's no wonder people enjoy working and shopping at the Virden Hi-Way Grocery. "I don't know what it is that we do differently, but it sure does work," says Jebb.

Top tips for smart staffing:  

1. Interview with a purpose. Take note of how prospective employees engage in conversation with you during the interview. This will tell you a lot about their customer service skills.

2. Keep a full team. If you have the opportunity to hire a few extra part-time staff, take it. This provides flexibility for employees, and means you're not as likely to be short staffed.

3. Focus on customer service. The first priority should always be the customer, and if your employees enjoy their jobs, the customer is also likelier to have a good experience.

4. Trust your employees. Give your employees enough responsibility to feel as though they're contributing to the business.