06/06/2019
5 top tips to increase your curb appeal
Don't curb your enthusiasm!

For convenience retailers, with or without a gas offering, making your location look inviting, safe, well-stocked, up-to-date and thoroughly modern is an ongoing battle. But it's a battle well worth waging.

It is imperative that certain aspects be maintained, as often a site's outward appearance is the first step to getting a customer to further explore what else you have to offer. First impressions are key in convenience retail.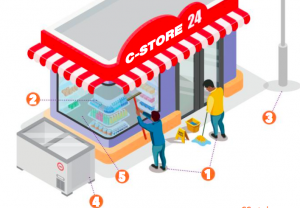 Here are five tips every c-store should consider to keep customers coming back, bring new shoppers through the door, and increase that all important curb appeal:



Be a clean machine

. Cleanliness is key, both inside and outside your location. If you have a fuel offering, the pumps will need regular attention. Emptying trash cans, sweeping up unwanted debris and maintaining equipment should become standard part of yours or your staff's routine, and schedules should be created to ensure things aren't missed.





Stock fully

. Full merchandisers reinforced your commitment to provide customers with both selection and price choices. Keep the washer-fluid, firewood, ice, etc. fully stocked and ready to sell. In the winter, brush off excess snow and keep your products as visible as possible in off-season. In the summer, make sure you have enough ice and coolant. 





Shine a light

. A well-lit location implies safety. Keep canopy lights, exterior signage and any specialty lighting fully lit. Having canopy letters or feature-lit sections that do not work, or work only partially, speaks volumes to the perceived service a customer will receive.





Don't forget your outdoor space

. Innovative and seasonal exterior products help to make both the exterior look full and drive what can be a high margin category, when done well. For example, propane exchanges, firewood and ice all have a place in the exterior layout, and if there are seasonal factors, perhaps a featured position or specialty product is warranted.





Make it visible

. Good visibility of the interior of the store from the exterior is often highly underrated. Having an exterior setup that works with the glass, windows and entranceway of the location makes it easy for the customer to see into the location, and your employees to see out. Keep site lines and heights in mind while positioning exterior categories to help keep the overall store looking open and inviting, plus adding an extra level of safety.




 

With summer just around the corner, what better time to do a little spring cleaning and operation refreshment?

 

Russell Large is vice president of retail services for Hugh Large & Associates Inc., the Convenience Guru, https://www.convenienceguru.com/