Alimentation Couche Tard boosts dividend 12% on higher Q3 profits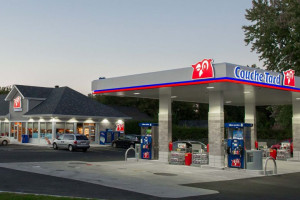 Alimentation Couche-Tard Inc. is boosting its quarterly dividend 12% after reporting strong net earnings in the third quarter that beat expectations.

The Quebec-based convenience store operator says its payout will increase to 7 cents Cdn per share from 6.25 cents.

Couche-Tard reported that its net income for the period ended Feb. 2 was US$659.9 million or 59 cents per diluted share, up from US$612.1 million or 54 cents per share a year earlier.

The results included a US$61.5 million pre-tax net gain from the disposal of its interest in CAPL and a series of income tax benefits.

Excluding one-time items, adjusted profit decreased to US$583 million or 52 cents per share, from US$602 million or 53 cents per share in the prior year.

Revenues increased to US$16.6 billion from US$16.5 billion in the third quarter of 2019.

The retailer was expected to post 44 cents per share in adjusted earnings on US$16.4 billion in revenues, according to financial markets data firm Refinitiv.