Amazon opens small concept Whole Foods store in NYC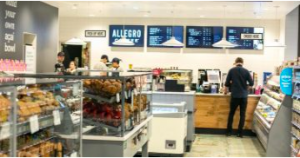 Amazon-owned Whole Foods, which revealed it was abandoning its 365 concept and looking to other formats to expand its footprint, recently opened a Whole Foods Market Daily Shop in New York's Chelsea neighborhood. The new concept is located next door to a full-size Whole Foods Market.

The 2,500-square-foot store, which is open seven days a week from 6 a.m.-11 p.m., focuses on grab-and-go items and a self-checkout kiosk (staffed checkouts are also available), making it easy for the on-the-go consumer to grab coffee or tea, fresh juices, a selection of prepared foods including breakfast bowls and oatmeal, and lunch and dinner options such as paninis, half chickens, salmon and sides. The store also features a build-your-own-acai-bowl bar.

Daily Shop also highlights local products such as Gotham Greens pesto and salad dressings, Balthazar breads and New Yorker Bagels. Other highlights include:




A produce section featuring seasonal citrus, mangoes, avocados and, bananas, along with cut fruit and luau bowls in the coolers



A

 selection of flowers including potted orchids and plants



A mochi freezer with popular flavours such as vanilla, mango, strawberry and chocolate


Two-dedicated grocery aisles highlighting single-serve convenience-based and everyday essentials – and even a tins of pet food for shoppers' furry friends


A small Whole Body section featuring toothbrushes, shampoos, deodorant, cough drops, candles and travel-sized products


Prime Member Deals highlighted throughout the store with blue weekly deal and yellow sale signage



This story appeared at ProgressiveGrocer.com.