Announcing the Top New Products Awards winners
Consumers selected 17 products for recognition in Convenience Store News Canada's inaugural Top New Products Awards.

This new-to-Canada competition honours suppliers and wholesalers that introduced the most innovative and high-quality products that meet consumers' tastes and needs.

Decision Point Research—one of the largest research companies in Canada—oversaw judging and consumers across the country evaluated contest entries, rating and awarding points based on convenience, appearance and packaging, along with attributes such as taste and ingredients for food items.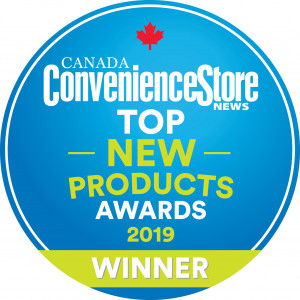 The 2019 Top New Products Awards honourees are:


Alternative Snacks: GoodLife Sea Stick Rolled and Baked Seaweed Snack (GoodLife Group Inc.) 


Chocolate Candy: Kinder Bueno Mini (Ferrero Canada)


General Merchandise: Big Bark Rolling Papers (Big Bark Rolling Papers)


Gum: Tic Tac Gum (Ferrero Canada)


Health & Beauty Care: Ricola – Extra Strength (Ricola Canada)


Healthy & Beauty Supplement: Over EZ Hangover Prevention Pills (EZ Lifestyle)


Meal Replacement: Cheesewich – Colby Jack (Cheesewich Factory)


Candy (Vegan): Huer Sensible Sweets Vegan Bears (Huer Foods Inc.)


Candy (Sweet): Jolly Ranchers Misfits 2-in-1 Gummies – Tropical (Hershey Canada)


Candy (Sour): Maynards Sour Patch Kids Heads 2 Flavours in 1 (Mondelez International)


Protein Snacks: Great Canadian Road Trip Jerky (The Great Canadian Meat Company)


Salty Snack: On The Go Fusion Snacks (On The Go Fusion Snacks)


RTD Coffee: Löfbergs ICE (Löfberg Canada Inc.)


Cold Brew: Station Cold Brew (Station Cold Brew Coffee)


Sports Drinks: COCO5 (Brand Strategy Execution Inc.)


Prepaid Cards: The Vanilla Visa* (InComm Canada)


Overall Innovation: Lucky Lotto Scratcher (Lucky Lotto Scratcher)





For full coverage and photos of the winning products, stay tuned for the November/December issue of Convenience Store News Canada magazine, due in market November 25th.

Not a subscriber? Subscribe today!