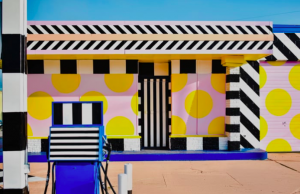 London-based French designer Camille Walala has created a new look for a long-shuttered 1950's era gas station in Fort Smith, Arkansas. This November, Walala worked in collaboration with French-American art curator Charlotte Dutoit and her Just Kids collective, a global creative house that conceives, curates and produces comprehensive art projects on an international scale. Together, they re-imagined the closed property and, even though it no longer sells gas or offers service, it has become an important new element to this town on the Oklahoma, Arkansas border.
Using the help of local volunteers who worked to create the eye-catching social space in just one week, Walala and Just Kids coated the old 1950s structure in the signature black-and-white stripes and pastel shades that has become Walala's trademark. Her work is influenced by the women of the Southern Ndebele tribe, as well as her love of the Memphis art movement and its reliance on gaudy and decorative ornamentation.

[embed]https://vimeo.com/371945021[/embed]

Dutoit is quoted as saying that following five years of curating diverse visual projects, she learned that a big part of good place-making is creating community and a sense of re-discovery of the beauty that exists in the urban environment. She sees Walala's Fort Smith work as one that helps people reconnect with the prominent triangle of property that had been a gas station for more than 40 years.

The site is now called The Walala Pump & Go. Expectations are that the art installation will remain on this prominent location at Grand Ave. and 11th St. for the foreseeable future.