01/14/2020
Charging forward
It just got easier to reduce motorists' cross country carbon footprints. Last month Suncor brand Petro-Canada completed its national (B.C. to Nova Scotia) electric vehicle (EV) network.
With more than 50 sites located from the Rockies to the Atlantic region, each location features DC fast chargers with both CHAdeMO and CCS/SAE connectors supporting a wide range of vehicles. The chargers can provide up to a 200-kilowatt charge; enough to deliver an 80% fill to most EVs in less than 30 minutes. Suncor worked with the Government of Canada that anted up $4.6 million to assist the project.
 "With more than 100,000 electric vehicles on the road in Canada and an average of 4,000 EVs added each month, we know that this is an important step in meeting the current and future driving needs of Canadians," says Suncor President and CEO Mark Little speaking about the company's Canada's Electric Highway initiative."We want to be part of the total solution to meet energy demand and reduce the carbon footprint of the transportation system."
Canada's Electric Highway adds to the infrastructure already implemented or planned by major auto manufacturers, such as Tesla and VW.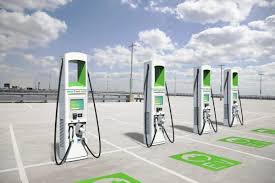 For example, Electrify Canada, a  subsidiary of Volkswagen Group, has broken ground on its new national EV fast-charging network with the construction of its first location near Toronto in the Halton Hills area. The company is also partnering with Canadian Tire to create 20 EV sites to complement the retailer's existing charging network that was developed in conjunction with FLO EV.
VW's EV station can support charging between 50 and 350 kW. Built by ClearBlue Technologies of Toronto, plans will see as many as 32 locations constructed over the coming months in Quebec, Alberta and British Columbia.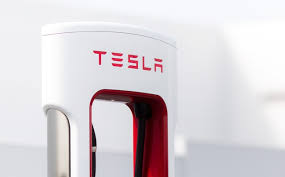 All will sport CCS and CHAdeMO charging ports that are compatible with almost all models of EVs. Tesla uses its own proprietary charger, but offers kits to connect their cars to these kinds of stations. Currently, Tesla offers 64 active chargers in Canada, with 23 under construction and 11 in the approval phase. This compares to almost 700 in the US.
According to Robert Barrosa, COO of Electrify Canada, the Halton Hills site is the first step toward building out EV charging infrastructure that will make low carbon electric vehicles more practical for buyers.
"With new membership plans, competitive pricing and a mobile app that makes charging with us easier than ever, we are confident that a growing number of consumers will consider making their next vehicle purchase an EV," says Barrosa.
 Volkswagen's Electrify Canada station includes four charging stands that use cooled-cable technology to enable fast charging, with room to build more as demand ramps upward. Chargers will be intuitive, as well as informative, with 15-inch touch screen displays and credit card readers. To make things even easier Electrify Canada will be launching an app that will allow users to manage the charging session from their mobile device. App features include a station locator, payment function, and session tracking capability. Chargers are up to eight feet high to provide easier vehicle charge port access. 
Currently, Canada has about 95,000 electric vehicles (battery and battery/hybrid) and some 6000 EV charging sites with the majority in Quebec, B.C. and Ontario.