Coca-Cola revives focus on java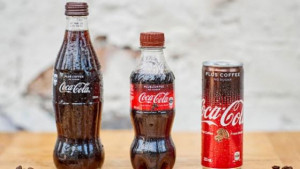 Atlanta-based Coca-Cola thinks the public is finally ready for a mixture of coke and coffee, and plans to bring back a variation of its original 2006 Coca-Cola Blak product.
According to CNN, the company's Blak coke product stopped selling in 2008 due to its lack of popularity. Nancy Quan, the company's chief technical officer, told CNN she believes the product was unsuccessful due to bad timing.
"That was a trend before its time," Quan told CNN Business. "I don't think people were ready to have a coffee portfolio within the Coca-Cola brand."
According to the article, the company has already started releasing Coca-Cola Plus Coffee or Coca-Cola With Coffee in international markets. The new product contains more real coffee than Blak did, giving the product more caffeine than the company's regular coke drink. The product is already available in Australia, Italy, Spain, Thailand and Poland, among other countries. Coca-Cola is "pleased with the initial response," according to a spokesperson. It plans to make the drink available in 25 international markets by the end of the year.
To read the CNN article, click here.

Originally published by Store Brands.