03/31/2016
Contraband tobacco: Major strike by the Sûreté du Québec
Quebec Provincial Police, along with its partners, executed several search warrants and made several arrests as part of project MYGALE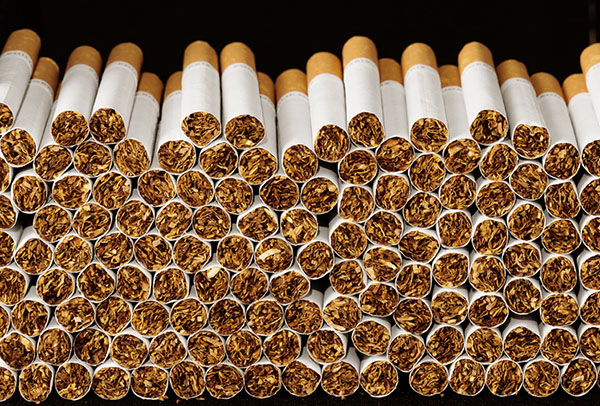 Quebec's Provincial Police Crime Against the State Investigations Service, through it's Contraband Investigations Division, in collaboration with its Canadian and American partners, executed several search warrants and made several arrests as part of project MYGALE.

Nearly 60 individuals belonging to a highly structured criminal organization that is linked to Outlaw motorcycle gang (OMG) and to First Nations organized crime were arrested. In addition to these arrests, nearly 70 searches were carried out in residences and businesses located mainly in greater Montreal and the Laurentides, Lanaudière, and Montérégie regions, as well as on the Kahnawake and Six Nations Ontario reserves.

The investigation suggests that individuals bought tobacco in the United States and imported it illegally into Canada via the border crossing stations of Lacolle, Lansdowne, and Fort Erie, in order to sell it on the Kahnawake territory in Quebec and Six Nations in Ontario.

According to Captain Frédérick Gaudreau, head of the Sûreté du Québec's Federal Crimes Investigation Division, "Project MYGALE is the largest operation carried out to date in America, not only related to contraband tobacco but also to cross-border crime between Canada and the United States."

Annie Beauséjour, director of the Enforcement and Intelligence Operations Directorate of the Canada Border Services Agency (CBSA), added that "Each of us has a role to play as well as an area of expertise, but together, we are all working toward a common goal : the security and well-being of our fellow citizens. Working as a team enables us to more efficiently counter the methods and techniques used by organized crime to bypass the CBSA's border controls."

During the investigation, significant seizures were made:



More than 52,800 kg of tobacco, representing fraud of approximately 13.5 M$


More than 1.5 M$ in cash from illegal transactions in Canada


Nearly 3 M$ in U.S. dollars


836 kg of cocaine


21 kg of methamphetamine


100 g of Fentanyl


35 lb of cannabis



According to documents, the criminal organization imported at least 158 shipments into Canada between August 2014 and March 2016, for a total of 2,085,600 kg of tobacco (or 2294 tons). This quantity represents a fraud of more than $530M to both levels of government.

Nearly 700 police officers were mobilized for this operation, in addition to employees of the CBSA. In addition to members of the Sûreté du Québec, members of the following groups are participating : The Royal Canadian Mounted Police, Ontario Provincial Police, Montreal City Police, Immigrations and Customs Enforcement (ICE), Drug Enforcement Administration, and the municipal police forces of Laval, Longueuil, Deux-Montagnes, Richelieu-Saint-Laurent, Châteauguay, Saint-Jean-sur-Richelieu, Roussillon, Thérèse-de-Blainville, Blainville, Saint-Eustache, Saint-Jérôme, Mascouche, Mirabel et Terrebonne.

This investigation was launched through the ACCES Tabac program in collaboration with U.S. Homeland Security Investigations (HSI).

ACCES Tabac is a program that was created by the Québec government in order to combat illegal tobacco commerce. Its goals, in particular, are to support the integrity of Québec's tax system and to recover income owed to the government; to reduce supply and demand for illegal commerce; and to reduce unfair competition and increase integrity.