01/12/2021
Core-Mark announces leadership promotions
Core-Mark Holding Company, one of the largest marketers of fresh, food and broad-line supply solutions to the convenience retail industry in North America, announced two appointments to the executive team, effective immediately.



[caption id="attachment_27805" align="alignright" width="150"]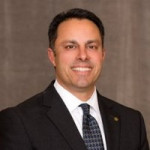 Linkedin: Chris Hobson[/caption]

Chris Hobson is now EVP & COO. According to a statement, Hobson is "a well-regarded industry leader in driving growth and distribution centre excellence with over 20 years of Core-Mark experience." He most recently served as SVP for the company's Eastern Divisions and previously served as SVP of Western Divisions, as well as SVP of sales & marketing and in other key roles focused on growth and operational excellence. Earlier in his career, Hobson held progressing leadership roles with  7-Eleven.
Andy Newkirk joins Core-Mark's executive ranks in his promotion to SVP of operations and will report to Hobson. Prior to this role, Newkirk served as VP of Operations for four years. Earlier in his career, he held various senior leadership roles at Sysco Corporation and Kellogg Company, providing him with an extensive background in complex supply chain operations.
"The promotion of Chris and Andy into top operational roles recognizes two incredible leaders in the Company for their contributions to our success and positions them to drive greater contributions to our growth and operational performance," said Scott McPherson, Core-Mark president and CEO. "As we continue to position Core-Mark for the future, these changes provide the company a solid foundation to achieve our 2021 objectives and drive future performance."
The company said the appointments make it a unified Division Leadership Organization, while streamlining the executive reporting structure. Founded in 1888, Core-Mark offers a full range of products, marketing programs and technology solutions to approximately 41,000 customer locations in the U.S. and Canada through 32 distribution centres (excluding two distribution facilities the Company operates as a third-party logistics provider).