CSI® celebrates its 40th anniversary
Cleaning Systems, Inc. (CSI®) of De Pere, Wisconsin has announced the celebration of its 40th year in business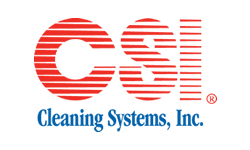 Cleaning Systems, Inc. (CSI®) of De Pere, Wisconsin has announced the celebration of their 40th year in business.

CSI®, which celebrates its 40th anniversary in 2016, was founded in 1976, as a pressure washing company servicing the truck washing industry. By 1980, CSI's focus had changed to the development and manufacture of its own detergents for use in professional car washes. Early products, such as The One Step® and The Advantage® positioned CSI® as the industry leaders in frictionless vehicle cleaning. The company's ongoing growth necessitated expansion to larger facilities on two occasions, first in 1987, and later in 1997, when the company's current 67,000 square foot world headquarters and manufacturing center was constructed. By offering a complete line of cleaning and protection solutions that are HF and ABF free in 2002, the company secured its position as leaders in car wash chemical safety and responsibility. Throughout the years, CSI® has maintained a commitment to ongoing innovation and excellence. In 2010, after years of research, development, and testing, CSI® introduced the car wash industry's first truly ultra-concentrated chemical system, Ultraflex®. This revolutionary development changed the face of car washing by cleaning up backrooms, eliminating waste, and delivering incredible performance and a highly efficient cost per application. Today, CSI® remains at the forefront of car wash technology, as seen through the introduction of recent developments such as the iLevel® ultrasonic chemical monitoring system, as well as revolutionary chemical products such as new Foamy Glo-N-Go® fast crashing low pH foaming protection product.

To commemorate CSI's 40th Anniversary, the company developed a special anniversary logo which will be used throughout the year. In addition, special anniversary themed signage, including a timeline of key industry accomplishments, was proudly displayed at the recent ICA Car Wash Show in Nashville, and will be displayed at other tradeshows and events throughout the year. In addition, CSI® distributors and customers celebrated the 40th Anniversary with a celebratory dinner and reception at the Country Music Hall of Fame in Nashville.

CSI® President, Dave Krause, was quoted as saying: "We are acutely aware that the achievement of a 40th anniversary is a reflection of the hard work and loyalty of our distributors and customers around the globe. In addition, the dedication of the CSI® team has facilitated our growth over the past 40 years and positioned us as the true leader in chemical technology for the transportation industry. We approach this anniversary with an attitude of sincere gratitude for all who have helped in achieving this milestone."

Cleaning Systems, Inc. is a leading manufacturer of cleaning and protection chemical products, as well as chemical application technology, for the transportation industry globally. Cleaning Systems, Inc. is based in De Pere, Wisconsin, and is an ISO 9001-2008 and ISO 14001-2004 registered company, whose products are known for high quality, value, effectiveness, environmental sustainability, as well as cutting edge, industry leading technology. CSI's product lines include Lustra®, servicing the professional car wash industry, including Ultraflex® ultra concentrated technology, as well as a full line of commercial transportation cleaning products, and an array of chemical application technology solutions.

Questions about the CSI® 40th Anniversary should be directed to Mercedes Mannino at (920)337-4420 or via e-mail at [email protected].