Customers making it tough on wash operators
Vehicle wash operators are facing hard times during COVID-19 with locations shuttered, traffic greatly reduced and staff furloughed. This uphill battle has been made worse when customers don't play by the rules and support public health efforts.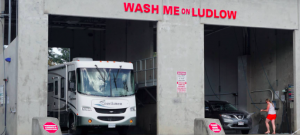 A good case in point is Ladysmith, B.C.-based Wash Me on Ludlow. The 24-hour site offers two self-cleaning bays that can accommodate everything from massive logging trucks to RVs, boats and the family SUV. Operator Michelle Nishi tells OCTANE that the vast majority of her customers are compliant with coronavirus-related  mandates, but some require a little extra education on the safety elements in the regulations.
She reports that following the public health initiative when Canadians were asked to pack up and return home from snowbird locales, she was finding RV's coming into the bays to clean their vehicles and dump sanitary waste. Until recently, the site offered a sani-dump, but Nishi has had to close the facility over concerns about her's and her staff's health.
Last month, after she closed the sani-dump, she discovered that customers were using the site's washroom to empty black tanks. "This meant I had to disinfect the bathroom beyond our regular schedule where we disinfect every hour. We have essential service providers coming through so it is vital we keep everything extra clean," she says.
Snowbird customers returning to Canada were dropping by to clean trailers before heading home. "When you are returning from U.S. destinations you don't dump your tank, you don't clean your RV, and you don't brush the dust off. You go straight home," says Nishi, adding that if she gets ill there is no-one to run the business.
"We are sanitizing constantly. We have not been given any direction from the government, but we felt we needed to increase this part of the operation. We pay special attention to the bathroom and sanitize all touchpoints, like hoses, hand grips, brushes, door handles and other areas every hour."