Dépanneur Le Pick-Up: The heart of the community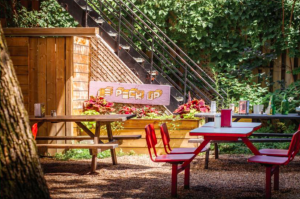 Sometimes the heart trumps reason.

Just ask Montreal dépanneur owner Penny Pattison.

Ten years ago she and friend/business partner Bernadette Houde were aspiring entrepreneurs looking for a small business they could buy and run together.

"We were both at a point in our lives where we wanted to do something different," recalls Pattison, who worked in business management. Houde—aka Bernie Bankrupt from the band Lesbians on Ecstasy—previously owned and operated a café.

The duo's search led to Chez Maurice, a once-popular convenience store and lunch counter in a hard-luck industrial area north of downtown Montreal, but notably close to the Jean-Talon Market, Little Italy and the bourgeois Mile End neighbourhood.

"All the needle trade businesses in the area were gone and the store wasn't doing very well, which is why it was for sale," says Pattison. "From a strictly business standpoint it didn't look too promising. But the store looked cute, we had friends in the area and we really believed the neighbourhood needed a place like this. It was a unique opportunity and we went for it."

They changed the name to Dépanneur Le Pick-Up, but otherwise Pattison and Houde kept the business looking and operating much the way it had since it opened in the 1950s.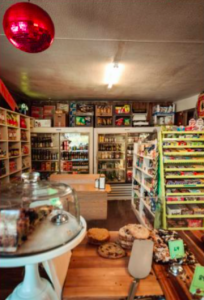 "We kept the original lunch counter and stools, which we love and really give the place a lot of charm and make it unique—there just aren't many places like this anymore," says Pattison. "The business was really centred on the food. And we kept everything from the original menu, like burgers, steak subs, hot dogs and breakfast sandwiches, which are the most popular items. There's no fries or anything like that. We don't do any deep frying."

The partners also maintained the popular variety of items that stock the store's fridges and shelves, including beer, wine, soft drinks, chips, candy bars and snacks, as well as cigarettes and simple household items like toilet paper. "There are two large grocery stores nearby that have everything and are open all the time, so we just stock the essentials," says Pattison.

Much to Pattison and Houde's delight (and perhaps due in part to the confidence and vibe they brought to the neighbourhood) Dépanneur Le Pick-Up is now a hub in what's considered the hippest square-mile enclave on the Island of Montreal.

Rock-bottom rents in the area's abandoned industrial buildings attracted a host of new businesses that span garages, body shops, ethnic restaurants, small food processing companies, white collar professionals and even a documentary production company that sometimes works with Hollywood stars (Bill Pullman was a mealtime regular while in town filming).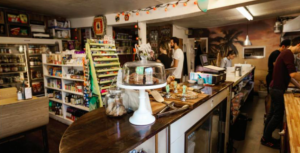 "The neighbourhood is very popular and there's a really dynamic mix of businesses and people," says Pattison. "And, many of our suppliers—the butcher, the coffee maker, the fishmonger—are within walking distance, as is the Jean Talon Market. How cool is that?"

Equally cool is the nickname—Mile-Ex—bestowed on the area by Montreal media. The buzz and action drive a steady stream of customers through Dépanneur Le Pick-Up, where convenience item sales account for about a third of revenue, but fresh food is the big attraction.

"The items on the original menu remain popular and so are the things we'd added like good coffee and fresh baked goods that we make here," says Pattison. "We also added picnic tables to seat a dozen more people outside at lunch. There are always people there when the weather's nice."

During the first few years, the owners worked the store all day every day, but today responsibilities are shared with the dozen or so employees hired during the busy summer months. Pattison and Houde also own and operate a nearby gay bar called Alexandraplatz, which is open most nights from May to October.

"Over time we've kind of stepped back into a more managerial role," says Pattison of Dépanneur Le Pick-Up's evolution. "We're really happy with how things have turned out."

---------------------------------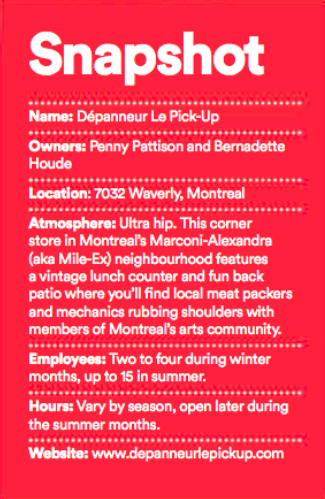 3 Tips:



Respect your customer base. "Know what they want and what are looking for."




A fair product for a fair price. "That's been our motto from day one. It's who we are."




Hire good people. "You want people who like what they do and will help make the work environment more pleasureful."