01/06/2013
EMV in action
Jessica Friesen is finally ready. The vice president of Gales Gas Bars and Bob's Fast and Fresh Convenience, an independent chain in Ontario's Niagara region...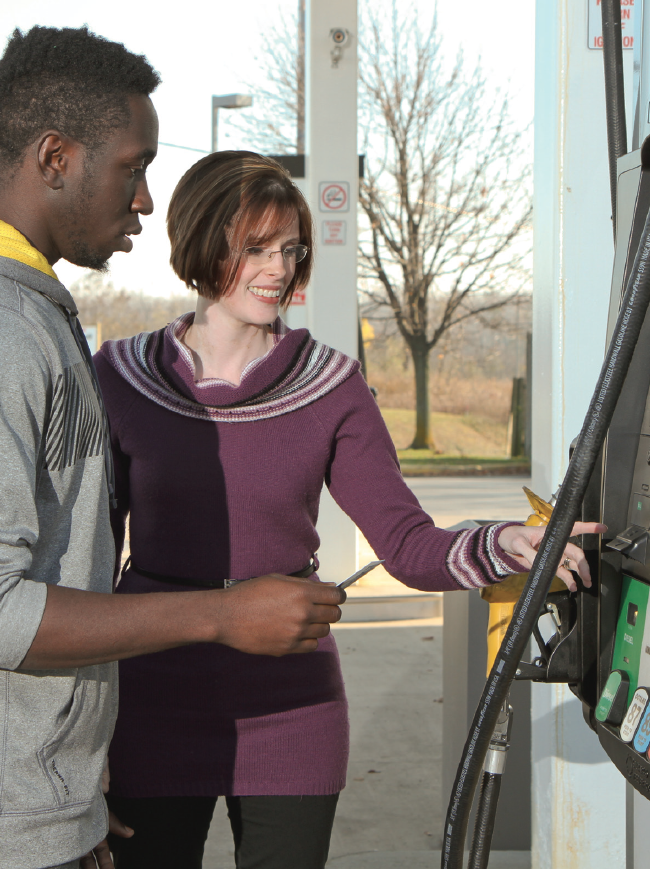 Jessica Friesen is finally ready. The vice president of Gales Gas Bars and Bob's Fast and Fresh Convenience, an independent chain in Ontario's Niagara region, says that gearing up for the new EMV specifications has been an expensive and lengthy process.

Canadian c-gas retailers have spent the last few years updating their payment systems in-store and at the pumps to meet Europay, MasterCard and Visa (EMV) specifications. Instead of relying on the magnetic strip on the back of a payment card, EMV transactions use a microchip, which securely stores information, including the cardholders' account number. These microchips provide both the merchant and the customer with increased protection against fraudulent transactions.

Despite the short-term pain, Friesen admits the added security makes the transition all worthwhile. "We know that we've done everything that we can to ensure that the customer is the actual card owner and to make sure we're as secure as possible," she says.

The migration to this more secure technology is not only time consuming, but also expensive. It represents many, many millions of dollars for the industry as a whole, says Lorne Cam, managing partner with Bulloch Technologies. "Even for a single-site solution, retailers can be looking at a minimum of $40,000 just for the hardware costs on an average site."

Shifting liability

But retailers aren't investing in this technology just to have an upgraded site. They're doing it because chip-based payments are more secure. Because of the increased security offered by chip technology, payment card companies have introduced a series of dates by which this technology must be in place or the liability for fraud may become the retailer's responsibility.

After these liability shift dates, "Canadian AFD merchants will become liable for domestic card-present fraudulent transactions (when a chip card is used) that may have been avoided by adopting chip technology," explains Shirley Matthew, head of product platforms with Visa Canada. "The biggest incentive for merchants to migrate to chip technology is the ability to significantly reduce fraud from the use of counterfeit and lost and stolen cards. Reducing acceptance of fraudulent cards will help reduce fraudulent chargebacks for the merchant."

March 31, 2011 was Visa's liability shift date for all merchants, but in light of the additional challenges associated with the transition for automatic fuel dispensers (AFDs), Visa and its Canadian issuers provided a conditional concession to the domestic liability shift. That conditional concession ended on December 31, 2012. This means that if a fraudulent Visa transaction takes place after this date on an AFD that doesn't adhere to EMV specifications, the retailer may be liable for the fraudulent transaction.

Although Interac has not introduced a liability shift date, it did mandate that 25% of a chain's existing AFDs be chip enabled by the end of 2012. Each year after that, another 25% will need to be chip-enabled, until December 31, 2015, when the last magnetic strip transactions will be supported by Interac on AFDs in Canada.

Customer training

Once the proper technology is in place, many retailers are reporting an unexpected problem. "There's a learning curve with everything. We've had pay-at-the-pump at this location for three-and-a-half years and a very good customer base who comes by regularly. They've gotten used to using those pumps in one manner, and now it's changed slightly," she notes.

Friesen has introduced signage and additional gas station attendants to assist customers with the new transaction. She says her staff have been trained to let individual customers know that their card will remain in the machine until the transaction is complete.

As more retail outlets continue to introduce chip technology at the pumps, customer acceptance will improve, says Cam. Once the technology is in place, it's essential to engage your staff and your customers to make this transition a smooth one.

Top tips:



Speak to your customers. Let your customers know about the changes, and explain that the transactions will be more secure for both the customer and the merchant.


Create signage. Post a sign with step-by-step instructions near each pump so that customers understand how the chip-based transaction has changed slightly from the magnetic strip transaction.


Keep extra staff on hand. When your site first makes the transition, be sure to have an extra staff member or two on hand to guide customers through the new sequence.