Forecourt Performance Report 2019
Change is the only constant for Canada's evolving fueling sector
 Canada's fueling sector is an industry that has experienced considerable change in recent decades. The upstream side of the business has undergone consolidation and brand shifts leading to a shrinking number of stations, while technological evolution brings greater efficiency. For the fuel sector change is the standard norm.
 This year, Octane is again partnering with the Kent Group Ltd., a data-driven consultancy that is a leading authority on fuel sector marketing economics, performance measurement and benchmarking, as well as price/margin reporting/analysis, regulation, and industry economic research and analysis, to bring you a comprehensive snapshot of the industry. Since 2004, the Kent Group has generated a complete site census that lays bare the downstream side of Canadian petroleum.
 This year, Kent reports that brand diversity continues to grow, while refiner controls over pricing are in decline. Canada now offers 67 distinct companies marketing 88 brands of gasoline. Refiners' position as a controlling force has declined since 2004: Today, only 23% of Canada's fuel is price controlled by one of the seven refiner marketers. This is a 9% decline over 14 years and shows how refiners have divested their forecourt holdings in favour of more emphasis on their downstream operations.
Lay of the land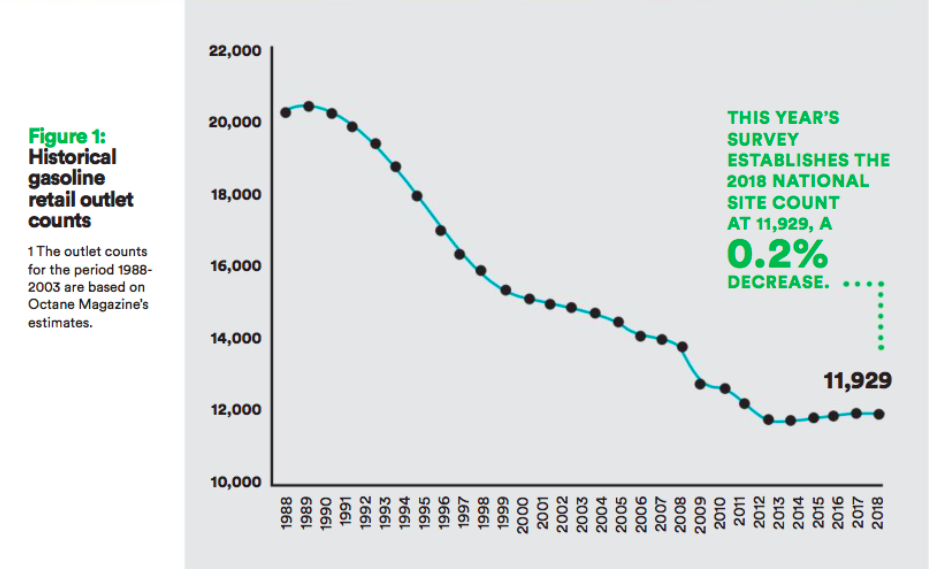 In 2017 Canada was home to 11,948 retail gasoline outlets. This year's survey establishes the 2018 national site count at 11,929, a 0.2% decrease. Kent reports that this ends a three-year run of site increases, which followed 25 years of steady site decline (Figure 1).
 "Our estimates show that the Canadian retail gas station population peaked at about 20,360 in 1989, declining at a steady pace until about 1999, and then at a moderately slower pace through to 2014," says Kent Group managing director Jason Parent, adding that since 2015 the number of retail gasoline outlets moved marginally higher until the slight decline in 2018.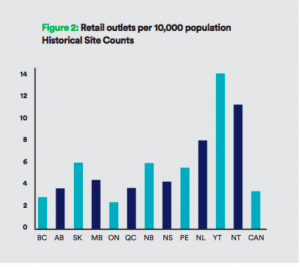 Consumers enjoy 3.2 outlets per 10,000 persons (Figure 2), with Ontario having the most stations per customer. Overall, operators offered 88 brands of gasoline, a number than has declined by 10 from 2004. The two largest refiners, Shell and Suncor, also have a smaller share of the forecourt, with just 11% of stations taking price direction from these companies. And, while only 23% of forecourt sites are price controlled by big name players, 40% still use the big names, such as Esso, Shell and Petro-Canada, on the canopy.
In 2018, a notable change to the retail fuel landscape is the rebranding of BG Fuels' Loblaw fuel networks to Mobil. This move impacted more than 200 sites across Canada. Mobil is now the ninth most common brand in the country, representing about 2% of all sites.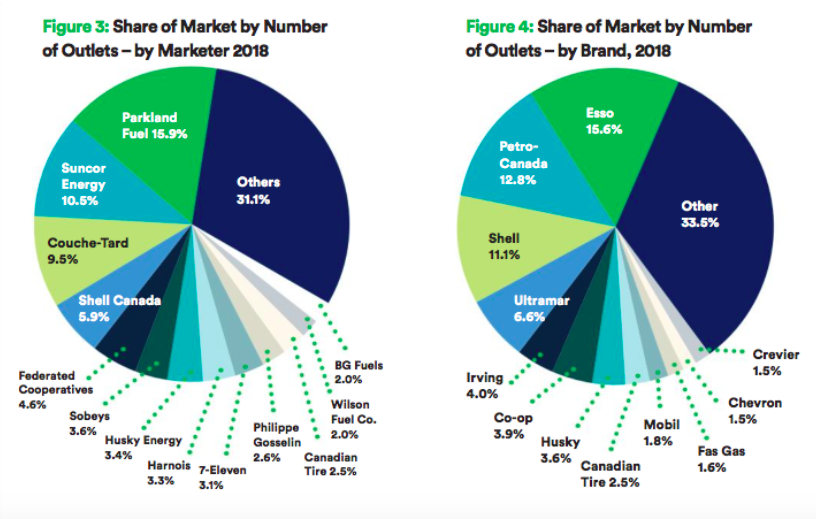 One of the biggest shifts is among the group of non-traditional gas marketers. These operators include grocery chains (Sobeys and Federated Co-operatives), big-box retailers (Costco) and others, such as Canadian Tire, 7-Eleven and Couche-Tard, where the main business is something other than fuel (Figure 3). This group has grown from a 15% share of the market in 2004 to 23.5% in 2018.
Regionally, there are a variety of companies marketing leading brands of gasoline. For example, Esso products are marketed by 11 companies. Both Shell and Suncor also market under similar arrangements (but to a lesser degree). Kent suggests this format works to manage relationships with former brand associates and gives the refiner-marketer more leeway as they focus on higher value outlets (Figure 4).
 Sharper tools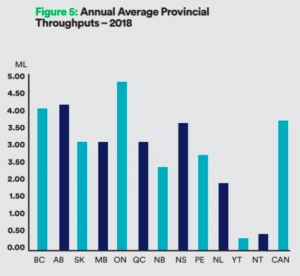 The rise in consumer demand for fuel, coupled with the decline in the number of outlets, work to create considerable unit efficiency. Back in the early 1990s, when Canada had more than 20,000 gas stations, average throughput was about 1.5 million litres per site. By 2017, the average hit close to 3.8 million litres at just 11,948 retail gasoline outlets. Last year, the number of litres declined by a modest 1.8% (the number of outlets declined by 0.2%) to reveal a trend that indicates sales per outlet may well have spiked (Figure 5)
Non-traditional marketers of fuel, such as grocers, vehicle repair and big box retailers reported gains of 15% from 2004 to 2018. "Since 2004, non-traditional marketers have increased their presence more substantially in central and eastern regions of the country, more than doubling in Ontario and Quebec, and growing at an even much higher rate in many Maritime provinces," says Parent.
He points out that big-box outlets, such as Costco, as well as couponing and cross-promotions between the gas bar and chain store, can create significant impact on retail fuel markets even though thee outlets have a relatively limited market share. Retail outlets under this category tend to be high volume retailers (HVR). This means that throughputs are much larger than market averages. "HVRs generally have a pricing advantage over traditional retailers due to their low operating costs per litre and the ability to cross-merchandize with their non-petroleum offerings, meaning markets with a high concentration of HVRs are generally characterized by lower average pump prices." (Figure 6)

Gas versus Diesel
Diesel penetration is up at Canada's fuel sites and diesel is available at 76.5% of reporting sites. This represents a significant climb from 2014, when just 47.3% of sites sold diesel. Even so, the diesel market remains small in comparison with gasoline sales. In 2018, diesel accounted for 7.3% of total retail petroleum sales. 
Backcourt remains essential
In Canada, 85% of fueling sites feature a backcourt offering, such as convenience store, car wash or quick service restaurant (QSR).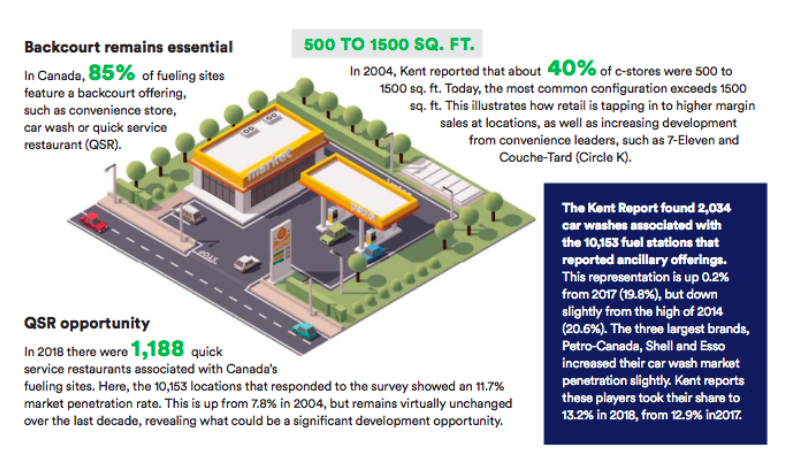 In 2004, Kent reported that about 40% of c-stores were 500 to 1500 sq. ft. Today, the most common configuration exceeds 1500 sq. ft. This illustrates how retail is tapping in to higher margin sales at locations, as well as increasing development from convenience leaders, such as 7-Eleven and Couche-Tard (Circle K). 
The Kent Report found 2,034 car washes associated with the 10,153 fuel stations that reported ancillary offerings. This representation is up 0.2% from 2017 (19.8%), but down slightly from the high of 2014 (20.6%). The three largest brands, Petro-Canada, Shell and Esso increased their car wash market penetration slightly. Kent reports these players took their share to 13.2% in 2018, from 12.9% in2017.
 In 2018 there were 1,188 quick service restaurants associated with Canada's fueling sites. Here, the 10,153 locations that responded to the survey showed an 11.7% market penetration rate. This is up from 7.8% in 2004, but remains virtually unchanged over the last decade, revealing what could be a significant development opportunity.