07/16/2020
Forecourt's new normal
COVID-19 has created tremendous change in the marketplace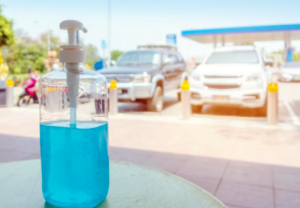 Canadian convenience, car wash and gas businesses worked hard to keep staff and customers safe during COVID-19. Behind the effort has been a push from major retailers to enhance operational practices and from equipment manufacturers that sped design and production to meet the public health challenge.

Canadian Tire was an early adopter of PPE for customers. When the virus hit, Canadian Tire sites used disposable glove dispensers to help customers stay safe at its gas bars. At Petro-Canada and 7-Eleven sites, they didn't offer gloves, but fuel dispensers came with a placard that asked customers to use paper towels to keep hands from touching gas dispenser nozzles. At 7-Eleven operators also changed how they handle cash. Certainly, customers can utilize the pay-at-the-pump features at the dispenser, but in-store, customers are asked to place cash on counters so that hands do not touch. When the sale is complete, staff sanitize the area ahead of the next customer.
Shell is another major that has taken action to safeguard staff and customers. According to Shell Canada spokesperson Kristen Schmidt, the company has installed plexiglass at payment counters, added floor signage to maintain physical distance, and enhanced cleaning procedures. "We also have the Shell app, available in the Apple app store and Google Play store, which includes Shell EasyPay. This is a secure and touchless way for customers to pay for their purchases at the pump or in-store. We recognize that customers may wish to limit interactions at this time and practice safe social distancing, which can easily be accommodated through Shell EasyPay."
Other Shell initiatives include recommendations laid out by the World Health Organization and the Public Health Authority of Canada. Schmidt points to six key items.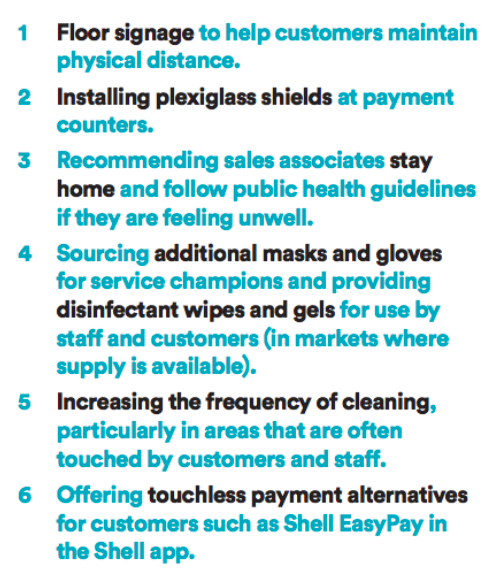 At Esso and Mobil stations the company worked alongside its independent branded retailers to ensure the customer experience was safe and convenient. Imperial Oil is present in the market with 21 fuel terminals and more than 2000 Esso and Mobil sites across Canada.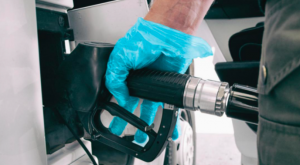 According to Jon Harding, public affairs advisor, Imperial Oil, Esso and Mobil service station personnel have been tasked to make sure sites in Canada are frequently cleaned and sanitized - from fuel nozzles to store countertops to door handles. "When at the pump, we encourage customers to leverage the mobile payment option through the Speedpass+ app to reduce contact with surfaces.  We also recognize the importance of and, where appropriate, are striving to provide services to essential service providers, such as truck drivers. Specific to cardlock sites, we enhanced our online Esso cardlock locator tool for truckers and made it easier to identify cardlock sites and call ahead for information about facilities."
Help at hand
Like retailers and fuel distributors, equipment manufacturers have been quick to come forward with much-needed innovation. These products have greatly helped retailers keep up their guard on cleanliness and site performance.
Fixture fabricator Gorrie RCP, a frontline company that designs, develops, and builds tailor-made waste and recycling management products as well as amenity fixtures and merchandising displays, got to work early on a range of personal protection equipment (PPE) for staff at c-store, car wash and gas bar. According to Gorrie's business development manager, David McLean, the company had to speed up production to meet the sudden demand.
"Normally we take about four weeks to design, engineer and manufacture a product. We cut that down to two weeks. Many of our customers are essential services and we had to get products to them to keep them safe," says McLean mentioning that face shields were the first offering followed by hand sanitizing stations. "At first people were looking for temporary solutions, but as the challenge grew it could be seen that more permanent solutions were necessary. The COVID-19 crisis is one that will be with us for the next couple of years at least. We are seeing that consumer behaviours have changed and retailers need to offer a higher level of safety to make customers feel secure. Our teams are actively looking at not only what is needed now, but we have to look to the future for products that will be needed tomorrow as well as we continue to face great change in our society."
Gorrie RCP offers a range of PPE that includes distancing signage, clear plastic partitions, sanitizer gels and hand washing stations as well as masks and face shields.
RTS Retail is another manufacturer that came forward quickly with protective equipment during COVID-19. According to Darren Norley, national accounts manager, RTS Retail, the company has been making protective gear for years before the novel coronavirus made itself known. One example is Citrus Wirx a line that has been helping grocery and convenience shoppers keep carts and baskets virus-free for years. Now, this product is at the front lines during the COVID-19 pandemic. "In the last three months we have seen demand soar for sanitary wipes and other items," says Norley remarking that sales for things like Citrus Wirx have climbed 700% over the past three months. "We have been able to supply our regular customers with PPE, but even with three factories (Canada, US, China) demand was so great we had to step up production and it was a challenge to fully meet this increase."
RTS Retail also offers Grab Wirx, a protective glove system that is ideal for gas stations where dispenser and windshield wiper handles can carry COVID-19. Grab Wirx dispenses up to 200 gloves in a touch-free environment. 
"We are seeing sectors such as grocery retail now preparing for future health crisis scenarios similar to the current COVID-19 problem," says Norley. "They don't want to get caught empty-handed again without proper PPE.  The cost is small compared to the size of the problem to business."
McCowan Design and Manufacturing, a Canadian leader in-store fixtures and displays for convenience, gas bar and foodservice as well as a range of other retail environments, quickly added new virus safety-related products to their lineup. Helping staff work safe McCowan now offers acrylic screens for retail and service desk personnel as well as stands and supports for hand sanitizers.
The new hand sanitizer stands can accommodate a variety of hand sanitizer bottle sizes and can be set up as a freestanding or wall-mounted unit. Stands can also handle dispensers or bottles and stands come with the ability to lock sanitizer into place to prevent thefts. The acrylic screens are made using 1/4-inch acrylic sheets and come with a solid metal base. Overall size is 40" X 23" X 12" with a large 8.5" X 12" pass-through.
"The ways that convenience store and gas bars offer safety and protection to their customers tell people volumes about the overall service at hand," says McCowan VP Anthony Ruffolo. "Having a prominently displayed hand sanitizer during these challenging times is a simple way to tell customers you value their business and you are a responsible community member. It's not an expensive service add on and it says you care."