The forgotten bathroom zone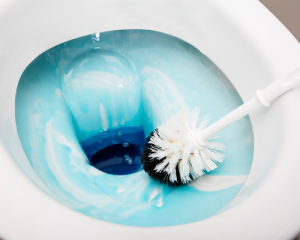 Convenience store operators don't lack for difficult decisions these days. Add delivery? Mobile apps? How about a drive-thru? What do Millennials really want? And now, what to do about rising gas prices?

But none of those choices will influence the consumer as much as the operator's ability to keep their bathrooms clean. That's a fact that doesn't change over time.

A 2004 study listed "cleanliness of restaurant" as the most important attribute for people selecting a quick-service restaurant (QSR) venue. A 2010 survey found that 14% would stop visiting a restaurant that was not as clean as they would like, and another 29% would only visit places that don't measure up "if absolutely necessary." A 2013 study ranked "cleanliness" (96%) ahead of "menu selection" (94%) as an important factor in restaurant choice.

Despite the fact that crumbs under a table and unpolished windows are drawbacks, we all know where the cleanliness rubber hits the road — the bathroom. You can be spotless everywhere else, but if your bathroom doesn't pass muster, you're done.

With c-stores moving increasingly into foodservice, this is a critical point. Still, the bathroom is the one "zone" in a restaurant that seldom receives the same business scrutiny as others. That's why King-Casey conducted a pilot study among 100 restaurant consumers to find out what value customers put on clean restrooms and the specific qualities they look for in restaurant restrooms. The same thinking can be applied to c-stores, which increasingly offer foodservice.

CLEAN RESTROOM = CLEAN KITCHEN

Of those surveyed, 78% agreed that a clean restroom is a strong indicator of a clean kitchen. Perhaps even more interesting was the fact that 94% felt that restroom cleanliness is more important today than ever before.

The reasons they cited come as no surprise. The media is full of stories about diseases (SARS, West Nile virus, hepatitis) and the associated emphasis on washing hands as the best disease preventative.

The leading quality indicator among all customers came as no surprise: "clean toilet." This was followed by "clean area around toilet," "no sticky floors" and "no trash." These attributes held up for all types of restaurants and were equally important to both men and women.

Another important quality indicator was the posting of a written "guarantee" signed by management and underscoring its belief in providing customers with clean bathrooms. These managers may have been channeling their inner Ray Kroc, who famously made clean bathrooms a McDonald's mantra from that chain's inception.

Customers also put value on "soft absorbent toilet paper," as opposed to the industrial variety that is often thin and waxy. They also told us that hooks on stall doors were important in providing a place to hang coats, pocketbooks and shopping bags.

Ranked at the bottom of the list were "vending machines" and "advertising/promotion." In fact, customers felt these features were equated with non-quality restrooms. Something to keep in mind for those c-stores favoring such a practice.

TEST YOUR BATHROOM APTITUDE

Based on the survey results, we developed a quick quiz to enable c-store operators to evaluate their bathroom best practices:



Do you have regular toilet cleaning and quality checks throughout the day?


Do you check for trash on the floor regularly?


Have you posted a restroom guarantee?


Does it include your asking the customer to report non-compliant restrooms?


Does it include the date/time of the most recent cleaning?


Do you offer extra toilet tissue and paper towel dispensers?


Do you offer soft, absorbent toilet tissue?


Do you have hooks on the stalls?


Do you have privacy panels between urinals?



How did you do? Your answer may tell you more about how to make your customers happy than the addition of any new mobile app or delivery service.

By: Tom Cook is a principal of King-Casey, a premier consulting and branding firm serving the convenience store and restaurant industries. The firm's c-store clients include American Natural, Pilot Flying J and Parker's.

Originally published at Convenience Store News.