Former Whole Foods co-CEO on the state of retail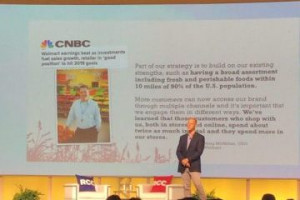 Despite headlines predicting its collapse, physical retail isn't dead⁠—it's just no longer linear.

"Physical stores still matter because people like the connection and the connectivity that happens in a physical store; you can't replicate that online," said Whole Foods former co-CEO Walter Robb during the closing keynote sessions at Retail Council of Canada's STORE conference in Toronto in May.

There are, however, winners and losers in the retail space, he said, pointing to Nordstrom and JC Penney as examples of retailers who have seen a recent dip in sales, while Aldi and Walmart continue to thrive.

He asked the audience whether they would be a winner or a loser. Five years from now, physical retail will still represent 60% to 70% of retail sales. To continue to win and thrive in the bricks-and-mortar space, he said, retailers need to offer customers a carefully curated selection and excellent service.

Fewer SKUs could translate into smaller footprints, but this doesn't undermine the importance of physical retail, he added.

"You can't underestimate how important it is to have a store to go to for human beings, and you know that because a lot of these digital brands have pivoted to having their own physical stores because you can't serve the customer unless they have a physical store as well as a digital store," he said.

Research conducted since the Amazon/Whole Foods merger has proven customers wanted both options and that customers spend more when presented with both options, he said. And if your business isn't integrated yet, "you're behind the curve and you've got to get going."

Originally published by Canadian Grocer.