Fresh perspective
Coopérative de l'Université de Sherbrooke keeps its eye on what's next
Written by Charlotte Boulanger, Photography by Laurence Poirier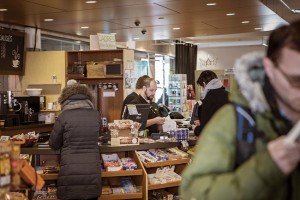 The store has a strong sense of history at the school. During the 50th anniversary celebration, one of the founders, Michel Gagnon, as well as an employee, who has been working at the store for 32 years, were honoured.

Growth and evolution

Over the decades, the sales at the Co-op have grown from a few thousand dollars per year to more than $10 million since a bookstore was added in 2007. "We are a privileged partner of the University of Sherbrooke. Thanks to our collaboration, the store became the first Francophone university to be granted the Campus Équitable designation. This designation aims to recognize, by official status, educational institutions committed to supporting fair trade. Fair trade contributes to sustainable development by integrating criteria for social development, environmental protection, fair remuneration and ensuring respect for the rights of workers and producers. We sell only fair trade coffee, three teas and two kinds of chocolate." To satisfy the needs of its clientele, the store installed a Jura coffee machine to offer specialty coffees. During the summer, clients can also buy iced cappuccino and Slush.

In 2011, the University put a ban on the sale of individual-size bottles of water on campus. "Being a good partner, we accepted this change to enable sustainable development." The drop in sales required some adjustments, including introducing more coffee options and other beverages such as energy drinks, and the introduction of CAUS Minute, popcorn and other local products.

Change is the only constant

The store benefits from impressive daily foot traffic. In fact, anywhere from 10,000 to 12,000 people are on the campus on an average day, and the store's location – near the major bus drop-off location – helps to draw people into the store.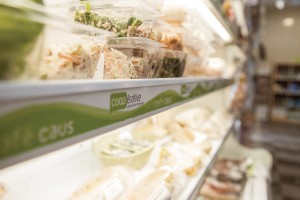 With such a high degree of traffic in addition to the 880 students living in residence on campus, the Cooperative launched CAUS MINUTE a year ago. It's a selection of grab-and-go meals prepared in the institutional kitchen of the food division "Café CAUS" of the Cooperative. "It's comfort food such as spaghetti, lasagna or macaroni, that we sell for $4.78 a portion. A microwave oven is available in the store if a client wants to heat the meal on the spot."

All containers for this line are biodegradable, and so is the cutlery. The muffins and pastries, baked in house, are also sold without packaging. Anything that is not sold during the day is sold to the main cafeteria that closes later than the store at 8:00 pm.

"To attract more people into the store, we do it with their noses. Around 4 pm we turn on our popcorn machine. We constantly try to innovate." Manon Paquette, who takes care of the convenience store, visits Le Salon des dépanneurs du Québec in Montreal to discover new items and up-and-coming innovation. "It's interesting because the suppliers are right there and we can try their new products."

Showcasing local producers is always a priority. According to Lemay, suppliers are welcome to create sampling opportunities in the store to allow clients to taste their products. Whether it's a micro-brewery, a specialist in nuts, cheeses from Coaticook or cold cuts from Scottstown, students love to discover new products. "Whenever a supplier offers a tasting, we are always eager to collaborate," she says.

Multifaceted cooperation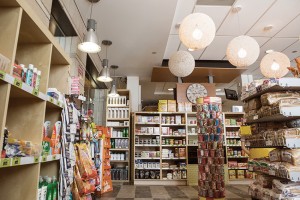 The Co-op employs 95 people, of which 23 are students at the university. Through an agreement with the Conciliation études-travail Sherbrooke program, the Coopérative welcomes these students each year. They draw up their schedules to fit with their classes. This protocol also means meetings with an advisory committee set up by students. "This year, it's a very committed group and we were glad to show these students the 'backstage' of the Coopérative. Since it's usually difficult to reach the millennials, I think it's great that they wish to get involved in the success of their Co-op. They want to establish some priorities and create a plan of action to make sure the Coopérative meets their needs."

Facelift on the horizon

With a solid background in economic development, Stéphanie Lemay is not short of ideas to keep the business thriving. She often says, "We are your general store on campus" and she knows the store must stay young. To keep it looking fresh and attractive to a younger demographic, she is considering a facelift for the 1,100 sq. ft. store in a not so distant future.

QUICK TIPS:

Know your customers. Have an understanding of the SKUs and categories your customers are looking for. Have conversations with them, or track how new categories are selling and adjust from there.

Take a chance. Introduce innovative products or categories, such as grab-and-go meals. With a focus on quality, you can be sure your customers will return the next time they need a quick meal.

Appeal to the senses. Figure out a way to draw customers in store by appealing to their senses. The aroma of fresh-baked bread or popcorn, or an exciting candy display will keep people coming back.