Getting into the business
A much-needed renovation helps Suds Full Service Car Wash in Regina stay on top of its game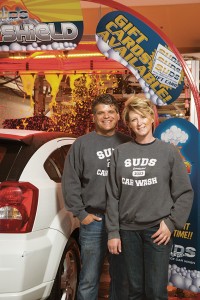 Suds Full Service Car Wash is a bustling car wash business close to the downtown core in Regina, SK. But it wasn't always this way, at least not a real car wash. Kirby Kazeil owned the land and was trying to sell it and the building on it back in 2002. Anytime he went to check on the building, he'd bring along his twin daughters.

"My twin daughters were about five years old at the time. Whenever we'd come to the property, before it was a car wash, there were freezer curtains, and they would push themselves in chairs through those curtains and pretend they were in a car wash. So whenever I came to check on this vacant building, they always wanted to come along and they'd say they were going to the car wash," he explains.

They had an offer on the property but had to put that on hold while he went to Edmonton. While there, he stopped at a car wash and was speaking to his wife, Natalie, on the phone. His daughters asked where their dad was, and he responded, "At the car wash". They got mad that he went to the property without him. At that moment a light bulb went off in his head.

"It got me thinking that that piece of land would make a really great site for a car wash,"
ays Kirby. Less than a year later, Suds Full Service Car Wash opened up. "It was pretty overwhelming at the time, but we learned as we went along."

Fast-forward 13 years, and the car wash was beginning to show its age.

"We opened up in 2003 and we hadn't really done anything since then in terms of new technologies or systems. The technology end of the business hadn't changed; we kept the property maintained in terms of appearance, but we were fairly manual still," he says. "Natalie and I decided that we either needed to get out of the business or get into the business." Here's how they did just that.

First step: Learn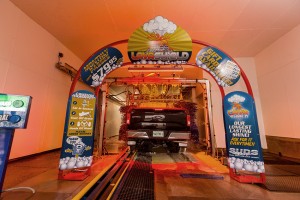 Kirby and Natalie knew they wanted to update the site and find opportunities for automation. They took the opportunity to see the technology in action during a trip to Ontario where they dropped in to Wash Links and met up with co-owner and sales director Bill Barber.

"My wife and I went out to Toronto in the fall and visited some of Bill Barber's sites and we just loved what we saw: the technology, the monthly passes, etc. We were so manual before with paper menus and no billing magic," he says. "It was really nice to see that technology in person and I knew this was what we were going to implement," he says.

The technology has not only helped to streamline operations, but it's also made a difference in the traffic flow of the site. "People used to have to get out of their cars to use the wash, but now, they can stay in their cars, so it's eliminated a lot of excess vehicle and pedestrian traffic on the site," he says.

Second step: Renovate

To understand the extent of the renovation, it's important to understand where they started. Back in 2003, they installed a basic conveyer tunnel wash with limited friction, as well as two vacuum bays. The 80-foot tunnel could handle about 15 cars per hour.

"The first day we opened up we washed eight cars and I thought to myself, 'Oh my gosh, what have we done?' It was a whole lot of work to wash just eight cars. But it picked up from there," he says.

The renovation began in the fall of 2016, only closing down for a month to extend the tunnel by 25 feet.

"We basically gutted the whole building and did a full renovation with the equipment and with all the interior walls we installed fiberglass resin board, refinished the exterior with brick front and back."

Looking to Wash Links, they installed a full 105-foot SONNY's conveyer tunnel, and went with an ICS (Innovative Control Systems) Auto Sentry payment station and gates. ICS is an innovation leader with technologies that enable their customers to differentiate their operations and achieve competitive advantages. As such, the Kazeil's went from a throughput capacity of about 15 cars per hour to 95 cars an hour.

Third step: Market
There are lots of car washes in Regina, so there's plenty of competition in the exterior wash business, Kirby explains. "But we're on a very busy street in Regina, so we're in a very high traffic area. As a result, we've got the visibility that our competitors don't have," he says.

On top of that, it's a family owned business. Kirby admits it's his wife Natalie who's responsible for the level of care and attention to detail. "We're family operated, and you know that when you come here. We have a very high standard of quality and our service is amazing." To spread the word about business and service, Kirby turned to social media.

"We've got 15,000 followers on our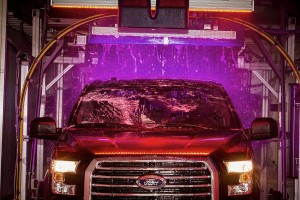 Facebook page, which is pretty good for any business in any city," says Kirby. "We've gotten so much positive feedback on social media about our new system, more than we've probably received in the last five years combined. It's created a lot of excitement with our customers." Kirby takes care of social media, posting pictures, running promotions, such as 'like and share a post to win a free car wash'. He spends about an hour a day on Facebook answering people's questions. He says it's too much to also do Twitter, so he makes sure all Facebook posts also share to Twitter. "Social media and Facebook have been very positive for us," he says.

"In the tunnel we added all kinds of LED lights. A lot of people have been posting about that on social media. So when they're going through the tunnel wash they're taking a video on their phones. It's a pretty cool ride down the tunnel, and that's unique," he says, suggesting that his twin daughters love the upgrade.