Gilbarco Veeder-Root Partners with Odysii and Launches Impulse™ Upselling Platform
GREENSBORO, N.C. – February 13, 2013 – Convenience store shoppers will gain access to more valuable, relevant promotional offers at the point of sale, with the Impulse upselling platform, part of Gilbarco's suite of retail applications...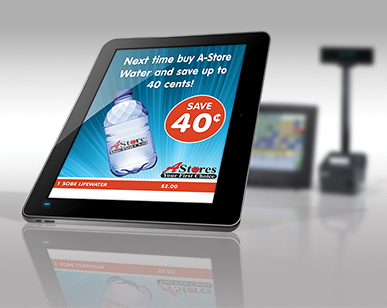 Exclusive global partnership to help retailers capture 3-5% same store sales gains, combines upsell solution from Odysii with Gilbarco leadership in retail technology, service and support

GREENSBORO, N.C. – February 13, 2013  –  Convenience store shoppers will gain access to more valuable, relevant promotional offers at the point of sale, with the Impulse upselling platform, part of Gilbarco's suite of retail applications.  Building on the software developed by leading Israeli software provider, Odysii, the companies announce their exclusive global partnership to create a new generation of highly intelligent and automated tools to enable c-stores to increase sales.  Impulse integrates with Gilbarco Passport® or any other point of sale systems to deliver targeted recommendations via an additional touch screen at the point of sale.  Retailers using the system report 3-5% increases in average basket size and gains in targeted categories such as private label products.

Impulse delivers improved sales through a unique, accurate prediction of the most probable upsell opportunity.  Unlike competing systems, Impulse analyzes numerous variables and improves over time, rather than just looking at the last scanned item.  The company calls it "Marketing Darwinism," because it takes into account location–specific and consumer patterns like weather, consumer purchase history, trends in nearby stores, time of day and more, learning and evolving in order to provide the most relevant offer to each consumer at a moment in time.  Impulse also provides a platform for coupon functionality to encourage bounce-back traffic.

Impulse interfaces with a retailer's existing point of sale system, price book and promotions calendar.  The system can be set up quickly to begin delivering on retail objectives: increasing same store sales, driving private label offers, reinforcing company branding, and increasing shopper engagement and loyalty through games, surveys, and coupons.  Together, Gilbarco and Odysii will extend the solution to Gilbarco dispensers, mobile applications and other devices, creating an unprecedented combination of intelligent upselling technology that delivers the right upsell message at the right time as consumers move from off-site to forecourt to c-store.

"The Impulse upselling platform is a valuable addition to our long commitment to retailer profitability through merchandising applications, from the point of sale to the forecourt and beyond," said Martin Gafinowitz, President of Gilbarco Veeder-Root.  "We are also pleased to announce that MAPCO has adopted the Impulse in-store solution and will soon launch a new forecourt merchandising extension of Impulse we call Purchase@Pump."

MAPCO Express President Igal Zamir said, "We challenged Gilbarco and Odysii to work with us on an industry first – to give our forecourt customers real-time access to promotions and the ability to purchase in-store merchandise while refueling.  This project, scheduled to begin testing soon, should help us deliver on our objectives to increase store traffic, make it easy for loyal customers to buy their routine items, and gain opportunities to win the loyalty of customers that visit primarily for fueling."

Adi Eyal, Odysii's CEO, said "Gilbarco Veeder-Root is the perfect partner to bring our intelligent upselling solution to market.  Their leading technology, especially the open architecture of Passport, and the best service and distribution partners in the business are a great fit with our business values."

About Gilbarco Veeder-Root

Gilbarco Veeder-Root is the worldwide technology leader for retail and commercial fueling operations. We offer the broadest range of integrated solutions from the forecourt to the convenience store and head office.  For almost 150 years, Gilbarco has earned the trust of its customers by providing long-term partnership, uncompromising support and proven reliability.  In fact, we help manage the business and maximize the bottom lines for 19 of the top 20 convenience store operators in the U.S.   Gilbarco Veeder-Root.  Technology with a human touch.

About Odysii

Founded in 2004, Woburn, Mass.-based Odysii is a global provider of marketing intelligence software solutions for one-on-one marketing and suggestive selling at the point-of-purchase. Its software-as-a-service (SaaS)-based solution has delivered targeted selling for retailers such as HEB, Mapco Express, 7-Eleven in Asia, Benavidas Drug Stores and more.