Hershey Canada insights drive c-gas success
Convenience-gas retailers, especially independents, are facing major challenges as competition from other formats intensifies. Recognizing the need for strong industry relationships, Hershey Canada has stepped up to the plate...
[caption id="attachment_5065" align="alignright" width="504"]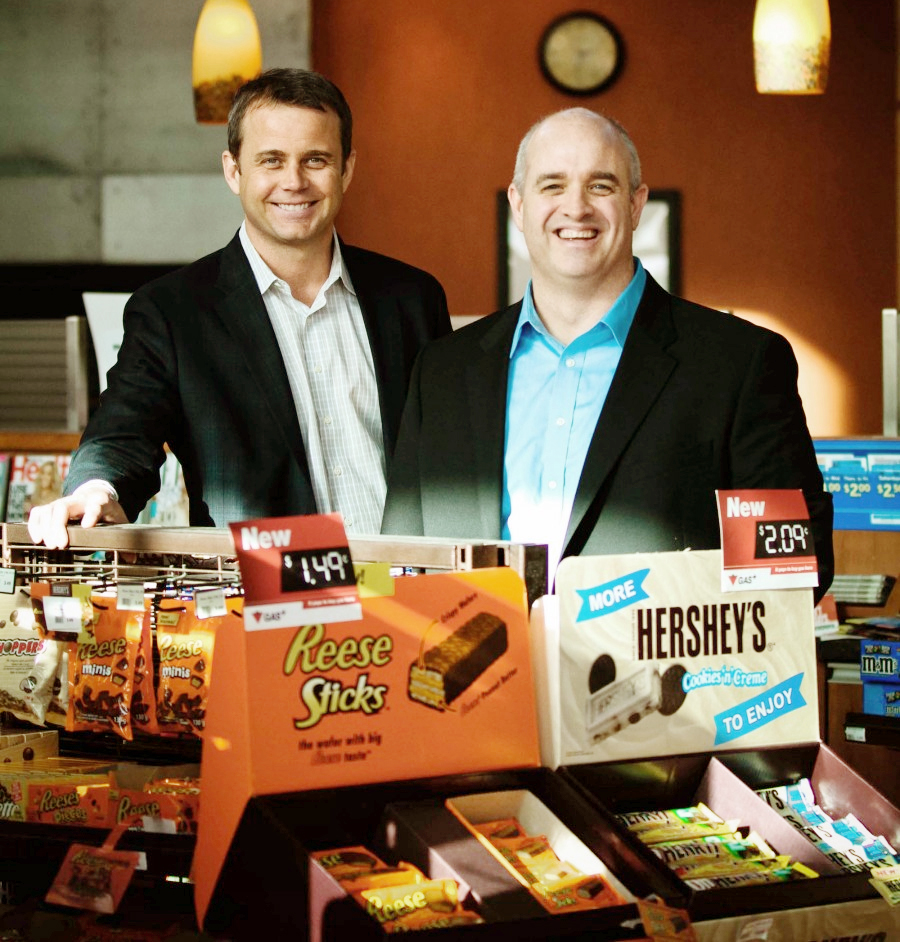 Photos by Brandon Gray[/caption]

Convenience-gas retailers, especially independents, are facing major challenges as competition from other formats intensifies. Recognizing the need for strong industry relationships, Hershey Canada has stepped up to the plate, arming its sales force and FSD partners with the insights independents are using to capitalize on innovation and trends, and provide their customers with an enhanced in-store experience.

We recently sat down with Joe Beck, vice president, sales for Hershey Canada, and Shane Chambers, director of convenience and wholesale with Hershey Canada, to learn more about Hershey's role in engaging the c-gas supply chain.

YCM: How important is the convenience channel to Hershey?

Joe Beck: The convenience-gas channel is very important to Hershey Canada. We see this channel as an important way to reach our consumers. An estimated 10 million-plus Canadians visit a convenience store every day, and since the sale of confectionery products is largely impulsive, we view each one of those visits as an opportunity to make a sale and delight a consumer.

YCM: What can independents do to better compete?

JB: All retailers – independent and corporate – must differentiate themselves from their competitors if they want to be successful. Research shows the most important areas for convenience consumers include: customer service – how friendly and knowledgeable are the people they're dealing with in store; assortment – do they have the right products and brands I want; whether the store is well-merchandised and easy to shop; and cleanliness. Retailers need to determine their point of differentiation and do it better than the competition. If they can do that, they will be successful.

Shane Chambers: Independents have an advantage over large format retailers in that they frequently enjoy a one-to-one relationship with the customer. Operators should think about the programs they can use to build relationships with these consumers, because it's about customer relationship management.

YCM: Innovation and speed to market are hugely important to the c-gas channel. How can retailers take best advantage of innovation?

JB: Capitalizing on innovation is very important to the confectionery category and its consumers; new news in the category drives excitement and trial. Ensuring new items are supported through early distribution and display are critical to maximizing performance. Best-in-class retailers work with their distributor partners to set up automatic ship policies for Hershey's new innovation.

SC: With respect to innovation, regardless of the usage occasion for confectionery, the brand choice is always in the top three drivers for purchase. When your innovation is supported by a strong existing brand with a marketing support plan behind it, you're increasing the odds for success. It's very difficult to introduce a new brand in this noisy marketplace, so the innovation I'd place my bet on if I'm an independent retailer is the new formats and sizes of existing consumer-trusted brands.

YCM: What trends do you forecast for the confectionery category?

JB: Certainly better-for-you products and portion control will continue to play a role going forward. Consumers are getting more health-conscious – they continue to indulge in our category, but want to benefit through things like dark chocolate or healthier inclusions. Shareable, resealable packages also continue to play a bigger role.

SC: I think you're going to see more exotic and intense flavours, and new and compelling flavour combinations. I also think you'll see a continued move toward simplicity – simple ingredients like milk, cocoa and almonds – because moms want fewer processed foods.

YCM: Do you have any final advice for small format retailers?

JB: Do the basics well. Retailers need to ensure they have the right assortment of core items, ensure they are in stock at the right location, and leverage consumer promotions. Also take advantage of best practices from a pricing standpoint. One in three consumers, when presented with a multiple purchasing option, will buy more than one candy item, so it's a great opportunity for retailers to increase sales by running a 2-for or multiple pricing promotion.

SC: I would also say take advantage of trends. King size is performing very strongly, so look for opportunities to capitalize on this trend. Are you adding distribution or enhancing or increasing display in that segment? Likewise, when you have segments that are underperforming, you need to decrease activity and pull back in those areas. Good luck!

Top tips for winning in the confectionery category:

1. Excel at the basics. Focus on providing the best customer service, the right assortment, properly merchandised shelves, and a clean in-store environment.

2. Execute promotions. Align with advertising campaigns of major promotions to increase consumer awareness.

3. Integrate innovation. Create in-store excitement by introducing new SKUs, but always maintain a focus on bestsellers.

4. Keep up with trends. Increase activity around your top-selling segments, incorporating a space to sales strategy.

5. Leverage insights. Work with your FSD rep to take full advantage of supplier insights and information.

To read about Hershey Canada's focus on in-store environment and its go-to-market strategy to help drive traffic into independent c-stores, check out the digital issue of YCM May.