06/03/2019
Hollywood Market's secret formula
A three-pronged approach to success – staff, customers, community

 

 

For more than three decades, Hollywood Market in Kelowna has welcomed customers through its doors in the heart of British Columbia's Okanagan Valley. "This is a landmark establishment in the community. People know this place," says owner Manik Dhir.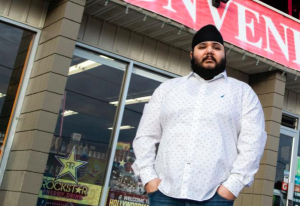 Until recently, however, the store was struggling to be a vibrant and central part of the community of roughly 127,000. That struggle ended when Dhir purchased the store almost seven years ago and "brought it back to life." The store needed an injection of new ideas and new energy, he says.

While the c-store standards – lottery tickets and tobacco – are still big sellers for Hollywood Market, Dhir and his staff, including wife Rupi (a Star Woman in Convenience), who grew up in Kelowna, are focused on meeting the needs of customers beyond the ordinary. One customer, for example, requested Ben & Jerry's dairy-free ice cream. It was included with the next order. Staples are also being redefined and expanded upon. The store, for instance, has always carried whole wheat bread, but customers also inquired about nine-grain bread. This now sits next to the whole wheat on store shelves.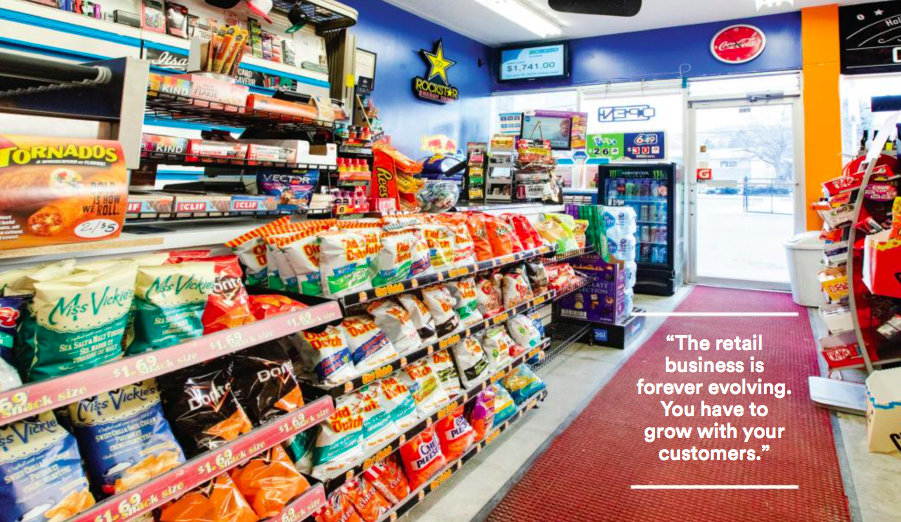 "The retail business is forever evolving. You have to grow with your customers,"says Dhir. "You have to listen to what your customers want, then you have to react to those requests."

There is another group he listens to very carefully: his employees. "We are actively involved with the professional development of staff. We try to do whatever we can for them," he says. "In return, they are involved in the business."

It is not unusual for him to pick up a few pizzas over lunch and talk with staff about their ideas, their interests and their insights. They are involved in the business," says Dhir, who points out that his retention rate is above the industry standard for c-stores in Canada. That employee satisfaction leads to better customer service.

When customers walk into Hollywood Market they are greeted with a smile and a warm "hello." It doesn't matter if staff are stocking shelves or cleaning a counter, they stop and greet customers, says Dhir. "That's our policy."

It's a policy that has translated into more than 400 likes on Facebook, a social media outlet Dhir uses regularly to reach his customers and connect with the community at large. It's also an opportunity to have a little fun, while being informative. Over the holidays, for instance, the retailer posted a notice in the style of the British motivational poster: His version read (and red): "Keep Calm. We're Open Christmas Eve."

Community champs

The welcome extended to customers is also extended to the community at large. "We're very involved in the community. We believe in giving back," says Dhir. In 2017, for example, after learning that the number of homeless people in Kelowna was growing, he and his staff organized a food drive over the holidays and cooked up 200 cheeseburgers for those with no place to call home. This year, they packed lunch bags for those in need. Inside each brown bag were a homemade sandwich, protein bar and treat. "We wanted to do our part," he says.

Dhir, who also owns the plaza where Hollywood Market is located, believes business thrives when business comes together. Two new enterprises, including a dog groomer, have joined the centre. When customers come to drop off their four-legged friends, for example, they may well duck into the Hollywood Market for a lottery ticket or some dairy-free Cherry Garcia. It's all part of taking care of customers.

 

Snapshot

Opened: Originally opened in the 1980s as a delicatessen before being transformed into a c-store.

Location: 544 Hollywood Rd. S., Kelowna, B.C.

Eclectic items: Everything from JUUL e-cigarettes in five flavours to freshly made Butter Chicken to AriZona Grapeade.

+++++

Hollywood Market's top tips

Listen to your customers. Pay close attention to their requests and see how these fit with your business model. Customers who feel valued are repeat customers.

Invest in your staff. This will lead to better service, higher retention and greater satisfaction among employees and customers. Great frontline service starts here.

Know your business. Learning about your competition and their product offerings, and understanding how your business compares will lead to success. Knowing your business also requires understanding how the sector is evolving, and the best way to do that is to get involved in your industry.

Originally published in the March/April issue of Convenience Store News Canada.