Imitating food-first operations for strategic advantage
Canadian newsstand & convenience retailer International News (INS) was dramatically affected by the consumer shift from analogue to digital. By 2014, sharp declines of sales of newspapers and magazines, combined with a protracted trend away from tobacco consumption, had led to a run of double-digit year-over-year declines in system revenue. A bold shift was necessary to shift focus and allocate more space to food and beverages – healthier fare like seaweed snacks, gluten-free items, and fresh & prepared foods.

The same strategic shift has been mirrored by other similar convenience operators, including Gateway Newstands and Hudson Ltd.

International News has cut "readables" to less than 5% of sales. The transition hasn't been painless, leading to increased franchisee turnover, but, after five years, revenues have recovered, and margins are way up.

Invest in food & foodservice

Market research provider Euromonitor International (www.euromonitor.com) estimates that between 2016 and 2021, total Canadian convenience store retail sales will decline – 0.8% per year in real terms.

Canadian convenience foodservice sales over the same period are projected to grow by +1% per annum, net of price inflation.

There are plenty of tactics and strategies that convenience operators can explore and implement to grow retail sales. However, as with newsstand operators, logic dictates pursuing growth via foodservice offerings.

Fish where the fish are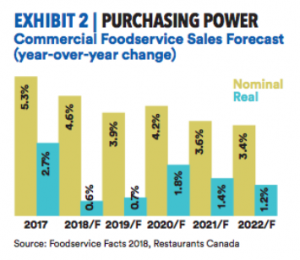 Real growth after inflation in foodservice is forecast to be at or above 1% per year until 2022.

Quick Serve Restaurants (QSR) represent about 45% of total commercial foodservice sales in Canada, just over $30B in 2018 . The lion's share of QSR sales are by large chain operators like Tim Hortons, McDonald's, Subway, Starbucks, and the like.





Eight of the top 10 chains in Canada by sales are QSR operators. Together, the Top 10 operators represent over one-third of total commercial foodservice sales.

For convenience operators to be successful in capturing customers and share in the foodservice sphere, it's important to take a page from the QSR playbook.

The leading edge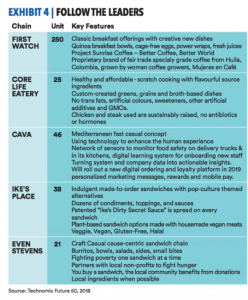 One go-to hack that has taken hold in the 'post-growth' world is to look and learn from players who are growing rapidly in foodservice by taking share. Exhibit 4 sketches the approach of a number of QSR and fast casual operators worth considering.

These are some of the fastest growing/emerging chains from the U.S. Each of these operators had revenue growth of more than 25% in 2017. Some are growing exponentially.

It's not magic – it comes down to their core value offerings and strategic approach. They've tapped into a recipe of food trends, tastes/preferences, social causes, marketing, and tech innovations that have led to consumer engagement – reinforcing the old adage that if you build it right, they will come.

Commit to tech

Tip: Next time you visit your favourite QSR outlet, pay attention to the number of patrons using their phones, in some way, in the transaction. Everything from pre-ordering, cashless payment, in-store rewards, and sourcing information. After the purchase, there's a better-than-not likelihood that their phones will be at the ready on the table to surf, text, and entertain.

Tip: Ordering online for carryout or delivery is growing, though it still represents a limited number of QSR eater occasions. However, it is very worth noting that nearly one-third of consumers are using their smartphones for loyalty rewards or special deals.

The 2018 Restarurants Canada Foodservice Facts graphic (Exhibit 3, below) tells the tale of the ways in which consumers are plugging in. Technology accessibility and functionality will increasingly be key influencers for consumers when it comes to restaurant choice decision-making.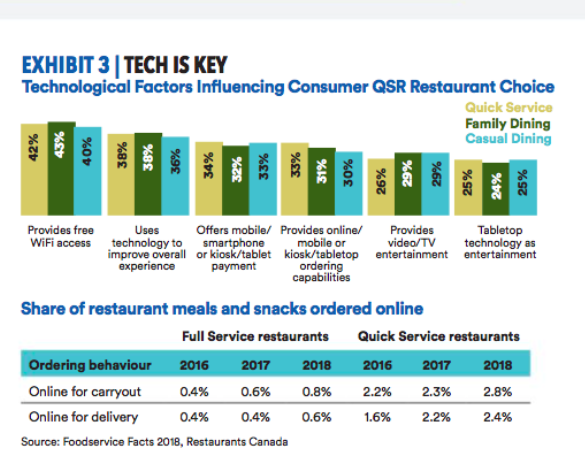 Divine your future

In his article "The rise of Japan: How the car industry was won," The Globe & Mail's automotive writer Peter Cheney pointed out, "Japan systematically borrowed the best ideas from (Britain, USA, and Germany)… Japan studied Germany's superb mechanical designs and installed them in cars that the average consumer could afford."

When it comes to growing your business by taking foodservice share from your big QSR competitiors, it would serve you well to remember that imitation is the sincerest form of flattery.