Irving backs away from refinery deal
Workers to find out this week about jobs at Come By Chance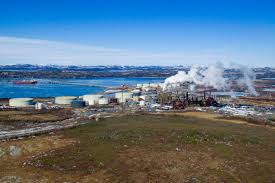 Last May (2020), Irving Oil announced they would purchase the Come By Chance oil refinery owned by the New York-based investment group Silverpeak. At that time Irving had big plans that would see the company tap into Newfoundland and Labrador offshore oil resources.
 This October, sources were telling media that Irving had backed out of the agreement to purchase the Placentia Bay, N.L. refinery. Workers received notice from plant operator North Atlantic Refining on October 5.
North Atlantic Refining Ltd. has stated that the closure of the facility is not yet a done deal. There are reports of another party interested in the facility. Origin International Inc.,a Maryland-based US company that specializes in recycling used oil, has released a statement indicating its interest.Management also plans to work to reduce costs further in a last-ditch attempt before turning off the lights and letting the 500 employees and contract workers go. The plant refines 135,000 bbl per day of crude and contributes as much as 5% of the province's GDP.
The Come By Chance facility has a storied past. It began operation in 1973 but was bankrupt by 1976 with owner Shaheen Resources leaving creditors with $500 million in debt, a figure that was among the largest credit failures in Canadian history to that time.
In 1980, Petro-Canada picked up the site for a mere $10 million. However, rather than reactive the plant, Petro-Canada decided to sell it to Bermuda-based Newfoundland Energy Limited in 1986 for the sum of $1. The group reopened the refinery following upgrades the next year.
The deal with Petro-Canada stipulated that the plant could not supply the Canadian market (except for Nfld & Labrador) and product was largely sold into the US. Newfoundland Energy operated the plant at a profit until 2006 when it sold the facility to Calgary's Harvest Energy Trust for $1.6 billion. North Atlantic Refinery Limited

OCTANE editor Kelly Gray can be reached at [email protected]